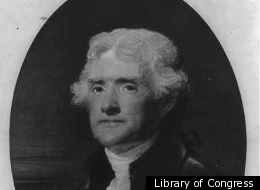 This year, President's Day celebration is filled with irony.
We celebrate the nation's leaders at a time when anti-immigrant rhetoric, harsh anti-immigration laws and record high deportation numbers, put the fundamental idea of America as a melting pot and as a nation built on waves of immigrant energy to the test.
To honor the presidents of our country, we must inevitably celebrate immigration and commemorate the fact that they, too, have an immigrant past. Some of this country's most important and influential people are first and second generation Americans, born into families who's ancestry reaches back to other nationalities.
We've created this list to celebrate the immigrant past of our nation's leaders. Please share your thoughts in the comments below.




LEARN ABOUT THE IMMIGRANT PAST OF SOME U.S. PRESIDENTS:
U.S. Presidents' Immigrant Histories
Thomas Jefferson, third president of the U.S., was born on April 13, 1743 in Shadwell, Goochland County, Virginia. His father, Peter Jefferson, and paternal grandparents were Virginians. His mother Jane Rudolph, however, was born in London to English parents. According to Jefferson's genealogy archives, his mother played a critical role in managing his household. Once Jefferson's father passed away in 1757, she had eight children to take care of, the oldest 17, the youngest only two years old.

Andrew Jackson, seventh president of the U.S. was born on March 15, 1767 in the Waxhaws area on the border between present-day North and South Carolina. He was born in the U.S. only two years after both of his Scottish-Irish parents, Andrew Jackson and Elizabeth Hutchinson Jackson migrated to the colonies from Northern Ireland, in about 1765. President Andrew Jackson was a first generation American.

James Buchanan, the 15th President of the U.S. was also of Scottish-Irish descent. His father, James Buchanan, Sr. emigrated to the U.S. from Donegal County in Ireland in 1783 and settled in what was then a comparatively wild part of Pennsylvania. His mother, Elizabeth Spear, the daughter of a farmer, was born in Adams County, also in what is today Pennsylvania. Buchanan was the first member of his father's family to be born on American soil.

Chester A. Arthur rose as the 21st president of the U.S. upon the assassination of President James A. Garfield. Arthur had been elected as vice president on the Republican ticket of 1880. He was born on October 5, 1829, in North Fairfield, Vermont. His mother, Malvina Stone Arthur was originally from Vermont, while his father, William Arthur, a Baptist minister, had immigrated into the U.S. from Ireland. President Arthur was a second generation American.

Woodrow Wilson, the 28th president of the U.S. was born in Staunton, Virginia. Wilson was born to an American father and immigrant mother. His father was a Presbyterian minister who had moved to Virginia from Ohio and was the son of Scottish-Irish immigrants. His mother had migrated to the U.S. from her native England where she was born to Scottish parents. In regards to immigration laws during his presidency, in 1917, Congress overrode President Woodrow Wilson's veto and passed the Immigration Act, which would require a literacy test for immigrants, and barred Asiatic laborers, except for those from countries with special treaties with the U.S., such as the Philippines.

Herbert Hoover, the 31st president of the U.S., was born on August 10th, 1874 in West Branch Iowa. He was born into a Quaker family. His father, Jessie Hoover was a blacksmith of German-Swiss decent and his mother, Hulda Randall was born in Norwich, Ontario, Canada, and was of Irish descent. Presidetn Hoover was a second generation American. Hoover was orphaned at the age of nine and was raised by a maternal aunt and uncle in Oregon.

The 44th and current President of the U.S., Barack Obama also has an immigrant past. Born in Honolulu, Hawaii, Obama is the son of Barack Hussein Obama Sr., who was born in 1936 in Nyanza Province, Kenya. The President's mother, Stanley Ann Dunham, was born on 27 November 1942 in Wichita, Kansas. Born to a black African father and a white American mother, President Obama's citizenship, racial identify and loyalty to the U.S. has been put to question by his critics and opponents. In his 2009 visit to Ghana, Obama proudly celebrated his African roots, sating "I have the blood of Africa within me."