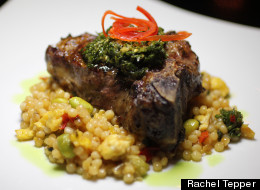 WASHINGTON -- Earlier this year, 901 Restaurant & Bar announced it would totally revamp its menu, which was surprising since the place only opened last May.
The downtown restaurant, at 9th Street NW and Pennsylvania Avenue, may have reacted to Washington Post critic Tom Sietsema's assessment that its original menu, which attempted to span the globe in flavors, "induces jet lag. And skepticism."
He went on to say that if he ever returns to 901, he'll "ask the kitchen to hold the mushy fish therein." Ouch.
So now, 901 has an overhauled menu with a decidedly Asian flair. It also keeps the lone dish Sietsema seemed to like -- a dish of "udon noodles strewn with calamari and clams and sparked with lemon grass and cilantro."
HuffPost recently sampled 901's new menu, and we snapped away for your benefit. Will diners (and critics) be more receptive to these dishes? Time will tell.
Click through our slideshow to see what's being served.
Yellowfin tartar with sweet ginger soy tuna, avocado, Japanese aioli and crispy wontons.

Seared scallop with wild mushroom asparagus risotto, bacon jam and sweet soy drizzle.

Stout-braised pork belly with orange hoisin barbecue sauce, arugula and pickled chili.

Chinese-spiced duck breast with sweet potato puree, crispy Serrano ham and balsamic ginger cherry chutney.

BBQ beef ribs with a Korean barbecue glaze, grilled scallions and daikon salad.

Curred crab fritters with spicy citrus mayo and kaiware salad.

Yaki soba ragout with wild mushrooms and shiso.

Lamb loin chop with Israeli couscous "fried rice" and Asian chimichurri sauce.

Oxtail wonton "ravioli" with orange-glazed carrots and oxtail jus.

Dessert sampler featuring, left to right, chocolate chipotle brulee, cheesecake with sour cherries, "coffee and donuts" bread pudding and caramel and chocolate cake.