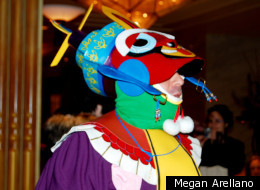 OXON HILL, Md. -- In the now-glamorous world of comic-cons, anime conventions like Katsucon are perhaps the neglected younger sibling.
But every year for one weekend, Katsucon becomes a miniature mecca for these lovers of Japanese cartoons, drawing more than 7,000 attendees from all over the United States to the Gaylord National Hotel at National Harbor.
Any other weekend of the year, businessmen and vacationers would be filing the Gaylord in a measured fashion. This weekend, sprawling parties of costumed revelers were everywhere.
The lobby and other parts of the entire hotel were saturated with wild and elaborate costume tributes to the fictional heroes and villains of written and animated anime. And the couture that dominates the scene is known as costume play, shortened to "cosplay".
For those who participate, it can be a singular hobby. The 20-page convention guide features appearances from professional cosplayers, guidelines for creating your fake weapon, and more than a couple 120 minutes sessions devoted to pursuits like "Wig Styling and Cutting".
HuffPost caught up with a couple of the costumed attendees this weekend to ask them about their outfits.
Many people attending Katsucon were there for "cosplay." Short for "costume play," this is the time-consuming and often expensive practice of constructing literal representations of fictional characters from favorite anime series.

From left to right, Dara Gross and Joe, playing Golbez and Rubicante from the videogame Final Fantasy Four. On having a normal day job, Joe said: "I'm in funeral directing and I'm going into nursing.[...] It's interesting to have a full-time job and when people see you like this they just automatically assume you don't really have a job. [People at work] know I cosplay."

Dale Harvey, 37, said that although he has spent way too much time creating costumes, the reactions he gets from people are sometimes worth it. "I guess the best reaction was when a young wolverine [at New York Comic Con] tried to punch me in my jimmies," Harvey said.

Bill Capie has been cosplayinig for eight years, ever since a friend dragged him to Otakon in Baltimore. Today, Capie, 28, is playing Haineko, a female character from the series Bleach. It's all hand-sewn fur, which means there are 47 darts in the shapely derrière alone. Then there are the birdseed breasts: "They really have that bounce," Capie said.

From left, James Ryan, Thomas DePetrillo and Mark Matthews as Deadpool, a Rock'em Sock'em Robot and Zora Link. Matthews recently returned to cosplaying after a short break. "College got in the way, girls got in the way," he said.

From left, Regina Jackson, 29, Emily Wallin, 24, and Michelle Paul, also 24. Emily Wallin has made good use of her BFA in musical theater -- in addition to cosplaying, she constructs costumes professionally for the musical "Cats."

"It used to be a yellow zombie, but I was working at a haunted house and a girl who liked me told me it looked like a cat," said Roy Burmeister. "Being a sucker for a pretty face, I started to change it into a cat. When she'd hear my chains, she call out, 'Here kitty-kitty-kitty.'"

Maria Vasquez, left, and Amiee Ampaya estimate that their cosplays cost $3,200 and took about 550 hours to construct.

Jamie Sykes has been glomped more than once. What's that? It's a compliment, albeit a mixed one. Glomping is when a fan runs up and tackles you to the ground out of sheer joy, Sykes explained. Do his family and friends like the cosplaying as much? Not always. "My dad's always questioning my masculity [over cosplaying] ... I don't know, must be something about the short-shorts," Sykes said.

"I'd rather not use my last name," explained Kate, "My thesis adviser doesn't know I'm here." Kate, right, and her sister Diana have cosplayed for more than seven years. In fact, their mother has even donned a costume with them a couple of times. "Our mom is an artist and dad is a LARPer so we're toned down [...] they met playing D&D."

Hey, that's not anime! Bluth's Frozen Banana Stand is a reference from the cult television comedy "Arrested Development." Gate-crashers Paula Madoka and Rob (who requested to be identified by his first name) what was up with the costume, Rob explained: "Because it's the best series ever. Without Question."

From left, Chris, 25, Tina Lam, 26, and Paula, 25.