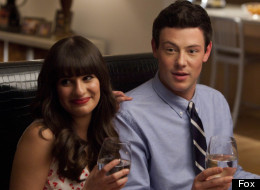 Watch out "Bridesmaids," the ladies of "Glee" are coming for you. Judging from Lea Michele's recent tweet, it looks like Tuesday night's all-new Regionals episode, "On My Way," will feature some kind of wedding scenario.
After all, we know that Finn (Cory Monteith) asked Rachel (Michele) to marry him and that she accepted, but why are the McKinley High seniors practically running down the aisle? We'll have to wait to find that one out.
But it looks like Rachel kept to her word and didn't invite former Cheerio Quinn (Dianna Agron) to be one of her "Glee-Maids." However, we're not quite sure where her BFF Kurt (Chris Colfer) is hiding.
In anticipation of tomorrows very memorable episode.. We took this photo.. We call it GLEE-MAIDS.. twitter.com/msleamichele/s…

— Lea Michele (@msleamichele) February 21, 2012
In the "On My Way" preview photos below, it looks like Rachel, Artie (Kevin McHale) and Mercedes (Amber Riley) each get their time to shine in the spotlight. Plus, The Warblers' bad boy Sebastian (Grant Gustin) will get his chance to charm the audience.
McKinley High's New Directions will take on the Warblers at Regionals.

Clockwise from bottom: Kevin McHale, Lea Michele, Dianna Agron and Amber Riley in "Glee."

Lea Michele as Rachel Berry in "Glee."

Kevin McHale takes the spotlight in "Glee."

Amber Riley takes the spotlight on "Glee."

Damian McGinty and Cory Monteith in "Glee."

Guest star Grant Gustin as Sebastian in "Glee."