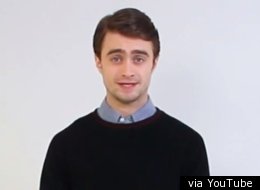 Daniel Radcliffe continues to express his dedication to gay rights and anti-bullying causes with a Trevor Project public service announcement, which aired after a controversial episode of "Glee."
"I believe reaching out for help is the bravest thing a person can do," the "Harry Potter" star announces in the new clip.
Radcliffe, whose new thriller "The Woman In Black" opened earlier this month to strong reviews, also spoke out on behalf on lesbian, gay, bisexual and transgender (LGBT) youth in the March issue of Attitude magazine. "Gay people should have equality in law everywhere," he said. "If you grow up as a young gay man knowing you don't have the same opportunities as everyone else, you're going to feel victimized and massive prejudice towards you."
After watching Radcliffe's new clip above, check out HuffPost Gay Voices blogger Scott Wooledge's slideshow of 10 straight guys we love for supporting LGBT rights: