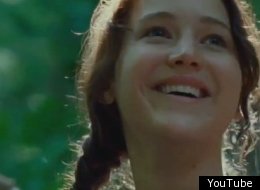 Shortness of breath. Racing heartbeat. An inability to acknowledge that the series is actually over. Pre-ordering movie tickets a month in advance (they go on sale today!). These are all symptoms one might experience after finishing the Hunger Games trilogy. Over at the YA blog Forever Young Adult, TEABS (The End of an Awesome Book Syndrome) is a serious condition that can be remedied only by starting a new, equally satisfying book. Fortunately, the young adult genre is teeming with dystopian adventures that will tide you over until the first Hunger Games film hits theaters in March, though these books are just as likely to cause TEABS as they are to cure it. May the odds be ever in your favor!
Sarah Pitre lives in Austin, TX, where she spreads the gospel of YA and champ cans. Unlike Fred Savage, she totally loves kissing books.Read more at Bookish
Book: "Divergent" by Veronica Roth While Katniss Everdeen is one BAMF, she may have found her literary match in Tris Prior, the heroine of "Divergent." Born in a world divided into factions based on personality, Tris chooses to leave her humble home in the selfless community of Abnegation and train with Dauntless, a brutal community of fearless warriors. As she endures a nightmarish boot camp (complete with the teen version of "Fight Club"), she uncovers a government conspiracy with the help of Four, her enigmatic and super sexy instructor. Packed with action and smoking hot chemistry, this book is guaranteed to wipe away any lingering "Mockingjay" angst. Bonus: The sequel, "Insurgent," is due out this spring.

Book: "Ashes" by Ilsa J. Bick Adrenaline addicts should also check out "Ashes," a post-apocalyptic thriller featuring Alex, a kickass girl suffering from brain cancer who survives after a mysterious series of electro-magnetic pulses wipes out all modern technology (and most of the population) and turns young people into zombies. The walking dead are never pleasant, but Bick takes a tired cliché and transforms it into a deliciously terrifying book to be read with all the lights on.

Book: "Legend" by Marie Lu Less frightening but equally fist-pump-worthy is "Legend," which alternates between the teenage perspectives of June, a wealthy military officer-in-training, and Day, a notorious criminal seeking to save his family from a deadly plague. After Day is accused of killing her brother, June sets out to hunt him down, only to discover that golden rule of dystopian fiction: Never trust the government. Readers will fall for June's feistiness and Day's charming charisma just as quickly as these two characters fall for each other.

Book: "Enclave" by Ann Aguirre Set in the tunnels of post-apocalyptic New York City, "Enclave" follows Deuce, a girl chosen to protect her impoverished community by hunting the tunnels for cannibalistic mutants. When she is paired with Fade, a boy found in Topside (the world above the tunnels) as a child, Deuce begins to explore the unknown beyond her home, and her world is shattered by new possibilities and new terrors, like murderous gangs. While it isn't as much of an emotional rollercoaster, this book provides an imaginative distraction for those waiting to see Katniss kick ass on the big screen.

Book: "The Knife of Never Letting Go" by Patrick Ness Patrick Ness's Chaos Walking trilogy is great for any fan of the District 12 tributes. Following Todd Hewitt, the youngest resident of a colony on a distant planet, this story combines complex characters, nail-biting adventure and social commentary. In a world where females no longer exist and men's thoughts are broadcast out loud, Todd is forced to leave his home and seek his destiny in the wild beyond. His journey toward manhood and his battle against his own darkness resonate powerfully. Plus, in the pet department, Todd's loyal dog, Manchee (who can talk!), gives Prim Everdeen's cat, Buttercup, a run for his money.