'Totes Amazeballs' Cereal Created By Kellogg's From Twitter Suggestion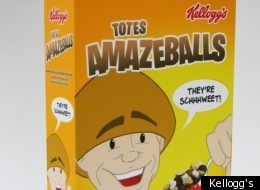 A lot of things can be "totes amazeballs" (translation: totally amazing): a spontaneous trip to Tuscany, a really special dinner or maybe even an especially good episode of Downton Abbey. Something else to now add to the "totes amazeballs" list is, well, Totes Amazeballs cereal.
This bizarre cereal came into existence after Tim Burgess of British band The Charlatans tweeted his Totes Amazeballs cereal idea to Kellogg's. Soon after, the company responded and created a cereal just for Burgess (as in, there is only one box).
Burgess explains:
I was thinking it'd be cool to come up with a breakfast cereal -- I heard someone use the expression Totes Amazeballs and it sounded like something from Charlie and the Chocolate Factory -- I sent a cheeky tweet saying I'd invented a new cereal.
Totes Amazeballs cereal is a mix of Rocky Road cake, Coco Pops Rocks, marshmallows, shortbread pieces and raisins.
Although this was a one-time only creation, Kellogg's is now getting "inundated" with Twitter requests for the cereal, according to the Manchester Evening News.