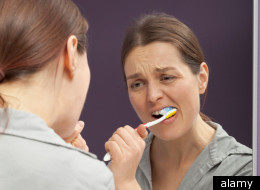 Dental health is relatively simple, right? You brush, you floss, you repeat.
Well, yes and no.
While the general guidelines are indeed pretty simple, there actually are some subtleties involved in properly caring for your teeth and gums. And in some cases, the things you're doing in the name of pearly whites can actually do more harm than good, which is why we've rounded-up a list of six of the most common dental mistakes people make when caring for their smiles. Are there any you regularly make?
So you're flossing, which is a good thing (according to the American Dental Association, you should be doing it daily), but how you floss matters, too. As the American Dental Hygienists' Association reports (in big bold letters no less!), you should never snap the floss between your teeth. Instead, you should "gently guide" it between your chompers using a "zig-zag motion." Pulling the floss down too hard or too quickly could harm your delicate gums.

Brushing hard may seem like a good thing: "I'm using a little elbow grease to get these teeth so clean and shiny!" Turns out, it's not. As Fitsugar reports, "overbrushing" can lead to increased tooth sensitivity and receding gums. Your dentist should be able to tell you if you're pushing too hard and will likely recommend a soft or extra-soft tooth brush.

Another one that may seem a little counterintuitive, but many experts agree it's actually best to wait a little while after a meal to brush your teeth, rather than trying to clean them right away. As London dentist Phil Stemmer told the Daily Mail, you should leave a bit of a window after eating. "Wait at least half an hour because the food acids and sugars temporarily weaken the protective enamel on the teeth," Stemmer told that publication. "If you clean your teeth too soon, you are actually brushing away at the enamel before it hardens again." Waiting a bit is a particularly good idea if you've eaten something acidic -- the Mayo Clinic recommends at least 30 minutes.

Starting your regular brushing at the same point in your mouth, every time, is not a good idea, according to WebMD. The reason? People tend to get a little complacent as they brush, which means your teeth might get somewhat uneven care. "Start in a different place so that you don't get 'lazy' in the same area of your mouth," Richard Price, DMD, consumer advisor for the American Dental Association told that publication.

If there's one thing many of us are guilty of, it's going too long between dental visits. For many, that goes beyond laziness, or forgetfulness or even finances -- it can be the result of a full-on phobia. As HuffPost recently reported, about five percent of people may have severe dental fear. But there strategies to combat that problem, whether it is addressing a fear of the dentist's tools (try holding them first) or the actual dentist (humor is a good way to go here). The bottom-line: the health effects of not going to the dentist are scarier than twice-yearly cleanings, so make it a priority.

Tooth destroyers? Yes -- according to Men's Health, there are lots of foods and beverages out there, which you may not necessarily think are bad for your teeth, but that can, in fact, cause real problems. Chief among them are certain sugar-free gums, candies and drinks that are relatively acidic, causing irreversible dental erosion. One of their tips? "Swish with water for 15 to 20 seconds after eating a fruit candy (or other acidic food)," Men's Health reports.