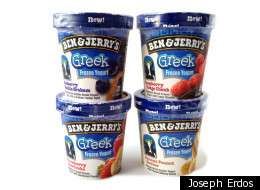 We knew it was coming but now it's official: Ben & Jerry's has launched a new line of Greek frozen yogurt. And it's pretty good! The pints are available in four flavors: Strawberry Shortcake, Banana Peanut Butter, Raspberry Fudge Chunk and Blueberry Graham Cracker.
One of the great aspects of Greek yogurt is the noticeable tang. In Ben & Jerry's case, this tang was barely evident for most tasters. In fact, the flavors didn't really taste like Greek yogurt much at all. The yogurt base was apparent -- at least in the sense that the base tasted different than Ben & Jerry's full-fat ice cream -- but most probably wouldn't guess this is a Greek frozen yogurt without the label. But that's okay because some of these flavors are seriously good anyways.
If you're on a diet, don't stock up on these pints just yet though. They may be healthier than full-on ice cream, but these flavors are not going to win any health food awards. In fact, Ben & Jerry's stated the following in a release emailed to The Huffington Post:
The product, still regarded as an indulgent dessert, reaps the benefits of containing real Greek yogurt. Greek yogurt is made through a traditional straining process allowing more of the whey to drain out, leaving a thicker, smoother yogurt rich and creamy in texture. While the protein is higher and the calories are lower than Ben & Jerry's ice cream, the company is positioning Greek Frozen Yogurt as a reasonable reward.
The flavors will be available in stores nationwide this month and in scoop shops across the country by springtime.
Check out our thoughts below:
All photos by Joseph Erdos
Strawberry Shortcake wasn't a home run, but it definitely wasn't a dud either. One taster "loved it," and found the flavor reminiscent of a "fresh strawberry milkshake." Another found the strawberry flavor a bit too intense. The cake pieces were "sort of stale" noted one.

It sounded so good, but Raspberry Fudge Chunk was universally the least favorite Greek frozen yogurt flavor. Two tasters found the raspberry flavor to be weak, and one thought that it had way too much sugar. The big problem with this flavor though was the texture -- which lacked a creamy richness and needed more "silky smoothness."

Blueberry Graham Cracker was the favorite of several thanks to the great balance between the blueberry and graham cracker. The creamy blueberry and the crunchy graham cracker melded extremely well, resulting in a great textural experience. One found the combo "way, way, way too sweet" though.

Banana Peanut Butter was a big contender for the best flavor. One taster remarked that not only was this her favorite of the crop, but it is likely in her top three list of favorite ice creams of all-time. Others weren't ready to make that bold of a claim but cited the "nice freshness" that came from "real banana flavor." An "enthusiastic thumbs up" said one.