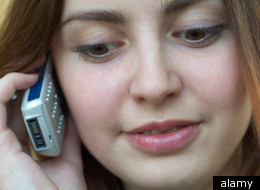 When it comes to using your cellphone, are you a righty or a lefty?
A provocative new study from Henry Ford Hospital in Detroit suggests that the brains of cellphone users show subtle differences based on which ear users typically use to listen to their phones: people who tend to listen using the right ear usually have brains in which the left hemisphere dominates—and vice versa.
In general, the brain's left hemisphere seems to specialize in "processing language and producing speech, carrying out sequential processing of information, focusing attention, and inhibiting negative emotions," according to the website of the Dana Foundation, a brain research organization. In contrast, the right hemisphere seems to specialize in "simultaneous processing of information, attending in a broad or diffuse way, forming and using spatial maps, and expressing intense emotions."
What does that mean in simple English? There's some evidence that so-called "left-brain-dominant" people are more analytical while "right-brain-dominant" people are more creative, study author Dr. Michael Seidman, director of the hospital's division of otologic and neurologic surgery, told The Huffington Post in an email.
So does that mean you can make inferences about your intellectual and emotional tendencies by noting whether you're right- or left-eared when it comes to cellphone use? And can noting others' cellphone use habits enable you to gauge their intellectual and emotional tendencies?
Alas, it's not quite that simple.

"I do not believe I can really comment on emotional differences," Dr. Seidman said when asked about the study, adding that the evidence to support differences between right-brain and left-brain people is "limited." But if you're left-brain-dominant and right-handed, "you could argue that you might process better in the right ear," he said, acknowledging that this was speculation but that it "makes sense."

No matter what, the study has some important implications. For one thing, it may point to a lower-cost, less invasive way to "map' the brains of neurological patients, Dr. Seidman said in a written statement released b the hospital. Currently, patients' brains are mapped using the so-called Wada test, in which an injected anesthetic is used to deaden parts of the brain.
The study also adds to the body of evidence supporting the safety of cellphones. It showed that about 70 percent of cellphone users habitually listen to their phone with their right ears. If cellphones did increase the risk for cancer, Seidman said in the statement, malignancies of the head, brain and neck would be far more common on the right side. But, he said, that's not the case.
The study, based on the results of an online survey completed by more than 700 people, is scheduled to be presented in San Diego on Feb. 26 at a meeting of the Association for Research in Otolaryngology.
Keep clicking for some fascinating TED talks on cognitive science
We think that at least a reasonable hypothesis is that, to be creative, you have to have this weird dissociation in your frontal lobe. One area turns on, and a big area shuts off,so that you're not inhibited, so that you're willing to make mistakes, so that you're not constantly shutting down all of these new generative impulses.

The fragrance that you will smell, you will never be able to smell this way again. It's a fragrance called Beyond Paradise, which you can find in any store in the nation. Except here it's been split up in parts by Estée Lauder and by the perfumer who did it, Calice Becker, and I'm most grateful to them for this. And it's been split up in successive bits and a chord.

So, illusions are often used, especially in art, in the words of a more contemporary artist, "to demonstrate the fragility of our senses." Okay, this is complete rubbish. The senses aren't fragile. And if they were, we wouldn't be here. Instead, color tells us something completely different, that the brain didn't actually evolve to see the world the way it is. We can't. Instead, the brain evolved to see the world the way it was useful to see in the past. And how we see is by continually redefining normality.

There is also a trend towards games that are good for you. Why? Well, we aging Boomers, Baby Boomers, we're eating our healthy food, we're exercising. What about our minds? Oh no, our parents are getting Alzheimer's. We better do something. Turns out doing crossword puzzles can stave off some of the effects of Alzheimer's.So, we got games like Brain Age coming out for the Nintendo DS, huge hit. A lot of people do Sudoku. In fact some doctors prescribe it.

We make meaning by seeing, by an act of visual interrogation. The lessons for us are three-fold. First, use images to clarify what we're trying to communicate. Secondly make those images interactive so that we engage much more fully. And the third is to augment memory by creating a visual persistence. These are techniques that can be used to be -- that can be applied in a wide range of problem solving.

Now, keeping these ideas firmly in mind, we can say that the experience of beauty is one of the ways that evolution has of arousing and sustaining interest or fascination, even obsession, in order to encourage us toward making the most adaptive decisions for survival and reproduction. Beauty is nature's way of acting at a distance, so to speak.

Like Kubler Ross' Five Stages of Death, Artist Kimberly Brooks explores the creative process and the stages one goes through to create a work of art. Drawing from great artists throughout history, and the over 70 artists she interviewed in her writings, Brooks examines the each stage from vision and to resolution. Starting from the idea that every person represents a wellspring of creative energy, she looks at what differentiates artists who tap into theirs.