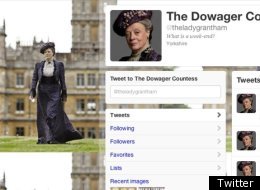 If you find yourself wasting spending hours on the Internet each day, for work or for fun, you've probably discovered your fair share of incredibly entertaining Twitter accounts. From the (sadly suspended) fake Dr. Jill Biden, to the fictional @RealLizLemon and fiction writer Jennifer Weiner (who also happens to be the #1 source for witty commentary on "The Bachelor"), Twitter is a gold mine of comedic content for smart women.
So move on over, @ShitGirlsSay -- you're not the only laugh-out-loud meme on the Twitter horizon. Here are five accounts that should be on your clever-woman radar right now. Don't ask, just follow.
Even though the second season of "Downton Abbey" has ended (so ... sad ...) this Twitter account lets you experience Maggie Smith's Dowager Countess all day long. With gems like "No one wants to kiss a girl in black," how can you resist?

@90sGirlProblem isn't new -- but it's too good not to give a shout-out to. If you experienced any of your childhood and/or teenage years during the '90s, you'll be familiar with the Twitter musings of this account. Some highlights? References to crimped hair, Mary-Kate and Ashley made-for-TV movies and Lisa Frank. Warning: May induce extreme feelings of nostalgia. Under no circumstances may you purchase a scrunchie after reading.

Adele's ex-boyfriend is responsible for inspiring some of the best music we've heard in years, as well as buckets of "Someone Like You"-induced tears. Though the real ex had the gall to ask her for royalties, his satirical counterpart is way funnier. Case in point is the account's description: You've heard her side, now hear mine. I'm not a bad guy. I did what I had to do. TRUST ME.

"The Wire" is a critically-acclaimed HBO television show about Baltimore's police force, education system and municipal government. Apparently it can also help you get laid -- if you give it a shout out on your OKCupid profile. Someone picked up on this trend and created a Twitter account to call OKC users out. The results are hilarious.

Since "Bridesmaids" is up for a well-deserved Oscar for Best Original Screenplay, it's only appropriate to show the woman-centric film some love on your Twitter feed. Kristin Wiig and Annie Mumolo sure know how to write some killer one-liners.