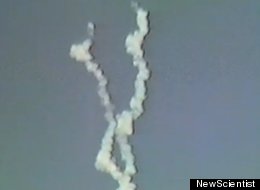 New Scientist has posted recently unearthed home video of the 1986 Challenger disaster that killed all seven crew members just 73 seconds after launch.
According to New Scientist, the video comes from Bob Karman, a nurse whose daughter works at the publication. Karman filmed the launch from the Orlando, Fla., airport where he was with his family after a trip to Disney World.
In the video, a group of spectators are initially unaware of the events going on before their eyes. Moments later, though, it's clear something's gone wrong.
For more about the video, click over to New Scientist.
This isn't the only home video of the launch. In 2010, footage from a neighborhood in Winter Garden, about 80 miles from the Kennedy Space Center launch site, surfaced. At the time, the Guardian wrote that "it is believed to be the only amateur film in existence of the world's worst space disaster."
The launch was also broadcast on live television.
Tragedy struck the shuttle program again in February 2003, when the space shuttle Columbia was lost upon entry over Texas. That accident also claimed the lives of all seven crew members.
NASA's Space Shuttle Program flew 135 missions between 1981 and 2011.
The remaining space shuttles in the fleet -- Enterprise, Discovery, Endeavour and Atlantis -- are being prepared for retirement and will be put on display at museums throughout the United States.
LOOK: Pictures related to Challenger mission:
Challenger Disaster Anniversary(CLONED)
Christa McAuliffe and Barbara Morgan, Teacher in space primary and backup crew members for Shuttle Mission STS-51L. Caption: history1900s.about.com Image: NASA

Sharon Christa McAuliffe received a preview of microgravity during a special flight aboard NASA's KC-135 "zero gravity" aircraft. A special parabolic pattern flown by the aircraft provides short periods of weightlessness. (1986) Caption courtesy About.com Picture courtesy of the NASA Johnson Space Center (NASA-JSC).

Astronaut Francis R. (Dick) Scobee, STS 51-L commander, briefs Payload specialist Sharon Christa McAuliffe about some of the flight systems of the Space Shuttle during a training session in JSC's Shuttle mission simulator. They are on the flight deck with McAuliffe seated at the pilot's station and Scobee at the commander's station. (NASA)

Views taken of resident at least, we 'll crashAstronauts Frederick Gregory (left foreground) and Richard O. Covey, spacecraft communicators for the launch team of STS 51-L, study a monitor (out of frame) soon after it became apparent that Challenger's launch was not nominal (001); Flight Directors Jay H. Greene (right) and Alan L. (Lee) Briscoe study data on monitors at their consoles in the flight control room (FCR) of JSC Mission Control Center (002). (NASA)

Shuttle Mission Simulator scene of astronauts Michael J. Smith, Ellison S. Onizuka, Judith A. Resnik, and Francis R. (Dick) Scobee in their launch and entry positions on the flight deck. The photo was taken by Bill Bowers. (NASA, Dec. 12, 1985) (Via About.com)

View of ice on the STS 51-L launch complex. (NASA)

View of ice on the STS 51-L launch complex. (NASA)

The space shuttle Challenger lifts off Pad 39B at Kennedy Space Center, Florida, at 11:38 a.m., EST, on January 28, 1986. (Via the Big Picture)

Classmates of the son of Christa McAuliffe, America's first schoolteacher to become an astronaut, cheer as the space shuttle Challenger lifts skyward from Cape Canaveral. Their delight soon turned to horror as the entire crew of seven was lost in the explosion 73 seconds into the flight. AP/Jim Cole (Via the Big Picture)

This 70mm still photograph of the 51-L launch was taken from Camera Pad 10 north of Launch complex 39-B approximately 58.32 seconds after launch. The photograph shows an unusual plume in the lower part of the right hand solid rocket booster (SRB) (026); Photograph of the 51-L launch at approximately 58.82 seconds after launch shows an unusual plume in the lower part of the right hand SRB (027); Photograph of the 51-L launch at approximately 1 minute, 13.14 seconds after launch showing a plume in the lower part of the right hand SRB (028). (NASA)

This photograph of the Space Shuttle Challenger exploding 73 seconds after lifting off from the Kennedy Space Center launch pad became the iconic image of a national tragedy. Bruce Weaver/AP. (Via the Big Picture)

These photographs of the Space Shuttle Challenger accident January 28, 1986 was taken by a 70mm tracking camera at UCS 15 south of Pad 39B, at 11:39:28.161 EST and 11:39:29.094. Notice the smoke trails caused by flying debris. (NASA-JSCJan. 28, 1986) (Via About.com)

Customer David Kimball reacts as store employees Lynne Beck and Lisa Olson embrace. They watched the Houston memorial service for the astronauts who died in the Challenger explosion at a store in Concord, N.H. Pictured on the television screen are family members of one of the astronauts. AP/Charles Krupa/1986 (Via the Big Picture)

Mission Evaluation room team discuss the STS 51-L accident at JSC's engineering office facility. Seated left to right are Charles Walsh and David Camp. Standing left to right are Larry Meyers, James Mistrot and Travis Libby (011); (l.-r.) Walsh, Camp and Libby seated at table looking over paperwork (012); l.-r.) Walsh, Meyers, Camp, and Libby discuss 51-L (013); Wide angle view of conference room with (l.-r.) Meyers, Walsh, Camp, Libby and Walter Scott discussing STS 51-L accident (014). (NASA)

Photograph of President Reagan and his staff watching a televised replay of the Space Shuttle "Challenger" explosion. (AP/ Craig Fuji, January 28, 1986) (Via About.com)

President Ronald Reagan tells a large turnout of JSC employees and family and friends of the 51-L crewmembers about their accomplishments and sacrifices during memorial services held following the Challenger accident at Kennedy Space Center (KSC)."They slipped the surly bonds of earth to touch the face of God" the President told the thousands gathered on the central mall at JSC. (NASA)

The Challenger crewmember remains are being transferred from 7 hearse vehicles to a MAC C-141 transport plane at the Kennedy Space Center's Shuttle Landing Facility for transport to Dover Air Force Base, Delaware. (NASA-JSC, Aug. 30, 1988) (Via About.com)

After investigators concluded their report, the debris was moved from Kennedy Space Center's Complex 39 to permanent storage in two secure abandoned Minuteman Missile silos at Complex 31 on the Cape Canaveral Air Force Station. (NASA, Jan. 20, 1987) (Via About.com)

Wide angle view of debris in the Lockheed Log building 113. Debris is on pallets waiting to be identified. The photo was taken from above the floor of the facility. (NASA)
CORRECTION: An earlier version of this story incorrectly identified Winter Garden as Winter Gardens.