Osama Bin Laden Compound Demolition Begins In Pakistan ABBOTTABAD, Pakistan — Under powerful floodlights and surrounded by rings of soldiers and police, heavy machines began Saturday night to demolish the three-story compound in northwestern Pakistan where Osama bin Laden lived for years and was killed by U.S. commandos last May.
Each blow helped eliminate a concrete reminder of the painful and embarrassing chapter in Pakistan's history that the al-Qaida chief's discovery and death in a town not far from the nation's capital represented.
Pakistan was outraged by the covert American raid in Abbottabad because it was not told about it beforehand – a decision the U.S. explained was driven by concerns that someone in the government might tip off bin Laden.
The terror leader's death was cheered across the globe, but many Pakistanis were angry that the U.S. violated its territory and that its troops were powerless to stop American soldiers from attacking a compound located next to the country's equivalent of West Point, the elite U.S. military academy.
Just as U.S. Navy SEALs waited for the cover of darkness to descend on bin Laden's compound by helicopter from neighboring Afghanistan, Pakistani authorities held off on tearing it down Saturday until the sun had set, said local residents.
They brought in at least three machines equipped with powerful crane-like arms during the afternoon and also set up floodlights that allowed them to begin work at night, said the residents, who spoke on condition of anonymity because they were afraid of being harassed by the government.
A large team of police set up an outer cordon around the compound to keep spectators and journalists away, said an Associated Press reporter who managed to get close enough to see the demolition work under way. A ring of army soldiers set up an inner cordon and warmed themselves against the winter chill by lighting a bonfire.
The bulldozers broke through tall outer boundary walls that ringed a courtyard where one of the U.S. helicopters crashed during the operation to kill bin Laden. They then began to tear down the compound itself.
A Pakistani intelligence official confirmed that the demolition was in progress but declined to say why the government chose to do it. He spoke on condition of anonymity because he was not authorized to talk to the media.
The government did not give advance warning that it planned to tear down the compound.
Residents of the normally sleepy town of Abbottabad were divided on what the government should do with the compound in the aftermath of the raid. Some thought it should be destroyed, but others believed it should be turned into a tourist attraction to help the town earn money. There was always the danger, however, that it could also draw al-Qaida supporters.
American officials said they buried bin Laden's body at sea to avoid giving his followers a burial place that could become a makeshift shrine.
Many U.S. officials expressed disbelief that bin Laden could have lived in Abbottabad for around six years without the Pakistani government knowing. But the U.S. has not found any evidence that senior Pakistani officials knew of the al-Qaida chief's whereabouts.
The raid, which lasted around 40 minutes, was a serious blow to the already troubled U.S.-Pakistan relationship. Pakistan responded by kicking out more than 100 U.S. troops training Pakistanis in counterterrorism operations and reduced the level of intelligence cooperation.
Some members of Congress called on the U.S. to cut of the billions of dollars of military and civilian aid to Pakistan unless Islamabad explained bin Laden's presence in Abbottabad and boosted cooperation on the Afghan war. The aid has continued, although at a somewhat lower level.
Ties between the U.S. and Pakistan have also been strained by American drone strikes targeting Taliban and al-Qaida militants in the country's northwest tribal region near the Afghan border.
A suspected U.S. drone crashed Saturday in the North Waziristan tribal area, the main sanctuary for militants along the border, said Pakistani intelligence officials and local residents.
The unmanned aircraft went down near Mir Ali, one of the main towns in North Waziristan, said the intelligence officials, speaking on condition of anonymity because they were not authorized to talk to the media.
The drone caught fire after it hit the ground and was believed to have crashed because of technical problems, they said.
A U.S. official, speaking on condition of anonymity to discuss the classified drone program, denied reports that the drone was shot down.
Local resident Nasir Khan said he saw the burning debris from the roof of his home in the Machi Khel area. It was about 500 yards (meters) from his house.
Pakistani officials often criticize drone strikes as a violation of the country's sovereignty, but the government is widely believed to have supported the covert CIA-run program in the past. That cooperation has come under strain as the relationship with the U.S. has deteriorated.
The U.S. refuses to speak openly about the program, but officials have said privately that the strikes have killed senior Taliban and al-Qaida commanders.
___
Abbot reported from Islamabad. Associated Press writers Rasool Dawar in Islamabad, Riaz Khan in Peshawar, Pakistan, and Kimberly Dozier in Washington contributed to this report.
Earlier on HuffPost:
Below, take a look at some of the discoveries made at Osama bin Laden's compound:
Loading Slideshow
Marijuana

A stroll around the 20-foot-tall, barbed wire led CNN's Nic Robertson to <a href="http://www.huffingtonpost.com/2011/05/05/osama-bin-laden-marijuana-crop_n_858301.html" target="_hplink">discover</a> a crop of marijuana plants just yards from the home. But whether or not bin Laden and his family were growing the weed for recreational purposes remains a mystery, and it has long been speculated that the Al Qaeda leader suffered from kidney failure, which would allow him to get a prescription for medical marijuana in many U.S. states.

Pornography

As Reuters is <a href="http://www.huffingtonpost.com/2011/05/13/osama-bin-laden-porn_n_861664.html" target="_hplink">reporting</a>, a "fairly extensive" stash of "modern, electronically recorded" pornography was found in the compound, according to U.S. officials who spoke on condition of anonymity.

'Natural Viagra'

The <a href="http://www.huffingtonpost.com/2011/05/09/osama-bin-laden-avena-sativa-syrup-natura_n_859436.html" target="_hplink">discovery</a> of Avena syrup -- a botanical product often used as "natural Viagra" -- at bin Laden's compound has raised questions about whether or not the Al Qaeda leader or his associates were trying to boost their libidos. Also known by the nickname "wild oats," Avena Sativa syrup has two potential uses: to increase sexual desire, and as artificial sweetener used for a sour stomach.

Diary

Navy SEALs <a href="http://theweek.com/article/index/215259/top-5-revelations-from-bin-ladens-diary" target="_hplink">reportedly</a> swiped the terrorist's short journal from his Pakistani compound. The al Qaeda leader is said to have mused about mass murder, <a href="http://www.huffingtonpost.com/2011/05/13/osama-bin-laden-obama-_n_861598.html" target="_hplink">naming </a>his number one target as President Obama, followed by U.S. military leaders including the defense secretary and the chairman of the Joint Chiefs of Staff. Interestingly, bin Laden noted that U.S. Vice President Joe Biden "was not an important target because that position has less weight."

No Internet Access

As the <em>Washington Post</em> is <a href="http://www.washingtonpost.com/blogs/blogpost/post/osama-bin-ladens-doting-wives-secret-e-mail-system-and-other-secrets-revealed/2011/05/13/AFTdOX2G_blog.html" target="_hplink">reporting</a>, the compound lacked Internet access, so bin Laden would communicate though an "elaborate pass-the-buck" system by typing a message on his computer which would then be saved to a flash drive and given to a trusted courier, who would drive it to far-off Internet cafes and return with incoming e-mail.

Soft Drinks

Bin Laden may have hated the United States, but that didn't stop him from <a href=" Read more: http://www.dailymail.co.uk/news/article-1383429/Osama-Bin-Laden-dead-Marijuana-grew-near-luxury-compound-Abbottabad.html#ixzz1MG1HF265" target="_hplink">reportedly </a>indulging in plenty of Coca-Cola and Pepsi -- products that are often associated with the Western commercialism the al Qaeda leader is said to have despised.
The Department of Defense released the following graphics and satellite photos of the Abbottabad compound: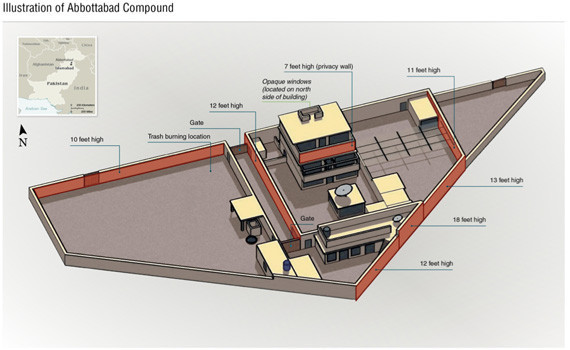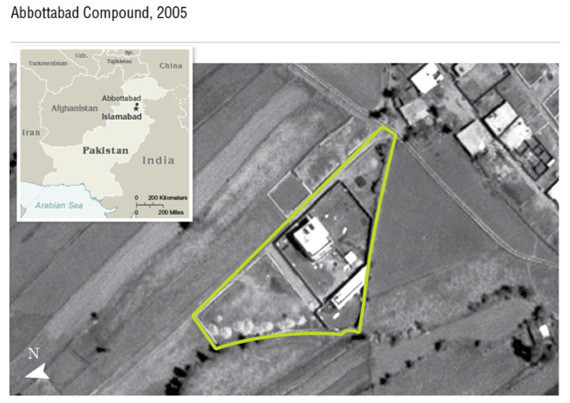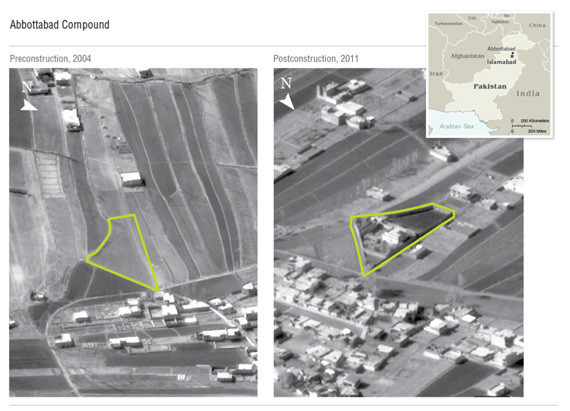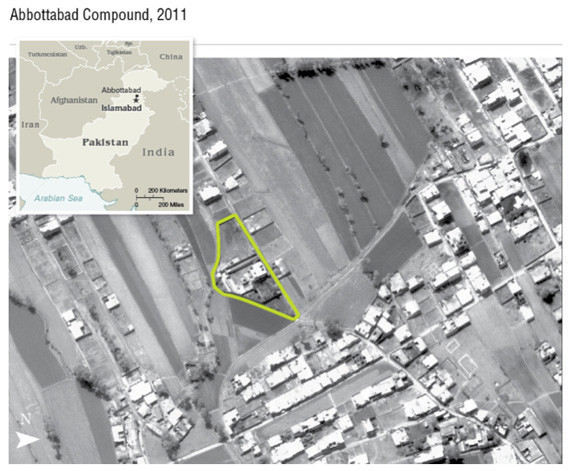 Copyright 2014 The Local Paper. All rights reserved. This material may not be published, broadcast, rewritten or redistributed.