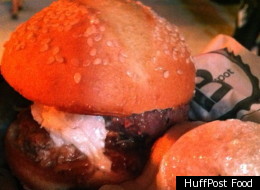 We were having a lot of deep thoughts about ground meat on Thursday night at the South Beach Wine & Food Festival's annual Burger Bash. After tasting nearly 20 burgers under three hours, we've developed some strong opinions on what makes a good burger. This is not an easy event for chefs: they are cooking a ton of patties in a kitchen space that isn't their own. As a result there was a mix of burgers -- from dry to juicy, mushy to well-charred, we saw a little bit of everything.
Chef Michael Symon was declared the winner (for the third year!) with his Porky burger, but he was amongst some other very strong competitors. The burgers from The Dutch, Fatty 'Cue and Abe & Arthur's all deserve shout-outs as well.
Check out some of the burgers below (see here for event and chef photos).
The Dutch's burger with cheddar and secret sauce on a brioche bun was one of the highlights of the night. This is a supremely juicy burger, and despite the dire need for a napkin, we couldn't get enough of it.

When your goal of the evening is to eat as many burgers as possible, it's always refreshing to chow down on something a little different. This bulgogi burger had the perfect amount of chili paste and went nicely with the Asian pear kimchee slide. However, the burger consistency itself was extremely mushy, resulting in a disconnect between taste and texture.

This lamb burger with salted chilies and aged worcestershire sauce is certainly a contender for one of the most interesting of the night. It had one of the most complex flavor profiles of the evening. We rotated between thinking it was a bit weird to thinking it was pretty delicious. We settled on pretty delicious.

Michael Symon has taken the top honor before at the South Beach Wine & Food Festival, and he managed to score a threepeat with his pork and bacon burger topped with pulled pork and slaw. It was good and tasty, but we're not sure it technically qualifies as a burger. This seemed more like a pulled pork sandwich to us -- but a good, succulent one at that.

The Husk burger has made a name for itself quickly in serious burger circles (just ask hamburgerologist Josh Ozersky). This extremely generous portion -- a big patty on a buttermilk and benne seed roll with American cheese, bread & butter pickles and a special sauce was a lot to bite into. We struggled with how to describe it for awhile and then settled on this two word description: umami juiciness.

Josh Capon, we love your bash burger with caramelized onion and bacon jam, shaved pickles and secret sauce. We've eaten it at previous festivals, and go to your restaurant for it. You typically manage to achieve the perfect balance of juiciness and flavor. But tonight this one just seemed a little dry. It still performed above many other patties, but didn't hit our top three.

This chili cheeseburger struck all the right notes -- Grafton cheddar for the sauce was a great call and the chili-flavored patty was spiced well. It's possible at these events to suffer from burger fatigue though. We have a feeling if we sampled this burger early on, it would have left a stronger impression.

We were rooting for this burger because it had all the right elements. Caramelized onions and rosemary aioli are good, and usually solid options. But this one just didn't quite work. All of the ingredients were fine, but the patty was bland, leading the taste experience to be a bit flat.

This burger (apologies for the hand shot -- they didn't have any containers, which we actually think was cool since it was way less waste!) had a perfect medium rare inside that reminded us of a good steak tartare. In this case, we wish that there wasn't any sauce -- the meat was so good on its own that the sauce only distracted.

The chunky burger hits you first, and then is followed by a pleasant warm and creamy aged cheddar. But then both tastes wash away a bit too soon -- the burger could have used more crust on it, and the cheese could have used more strength. It felt like the burger was missing a more acidic ingredient, but the Bloody Mary on the side was happy to oblige.

It would be great if the pickled onions and Japanese cucumbers on the side were actually on the burger to help cut through the otherwise mushy mess that was very red in the center. With the burger falling apart and giving way to the pork kakuni, it was hard to identify what was going on besides meat and bread.

This thick burger lacked a nice first bite (it was mushy), but a nice taste lingered. The cheddar was really just a hint and didn't stand up to the large burger.

Don't judge a book by the cover, as this petite patty packed a powerful a punch thanks to the cheddar and brick cheese spread (and another rich unidentified spicy sauce on top). The emphasis here is on cheese, which plays the main role rather than being an afterthought.

People seemed more interested in posing with Bobby Flay than eating his burger, but they were missing out on what was well-cooked burger that stood up nicely to the potato chips on top. Billed as a Buffalo burger, the blue cheese comes through as does a hint of the hot sauce, but then it goes away far too fast and your left with a burger and potato chips on top without heat.

It was tough to cut through this massive burger, with the 80/20 ground chuck playing second (or maybe fourth??) fiddle to a heap of LTOP (lettuce, tomato, onion, pickle if you dont speak Fieri), lots of mayonaise, and then a well-done onion ring and a bacon patty (yes, bacon smashed together into a large patty shape covering the whole burger). The burger itself felt like an afterthought as one had to strip away the top layers to find out if there was even a burger in there.

Guy was there, Bobby was there, but no Rachael (at least when we stopped by) at her imposing stand which featured more staff than diners and for good reason. What felt like an afterthought entry, the burger was overcooked and was puck-like in its appearance and not terribly more supple in consistency. The dollop of bbq sauce on top managed to be thin and gooey and too sugary. The spicy pickles on top were neither spicy nor pickled and far too thin to add any memorable crunch or consistency.