Charles McGee, Influential 87-year-old Artist, Still Creates Work For Detroit Public (PHOTOS)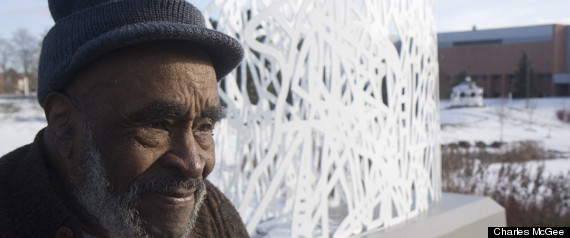 In 2011, Charles McGee suffered a stroke that took a toll on his health. But you'd hardly know it.
While McGee has scaled back some since the time he was a teacher, gallery owner and prolific artist, the 87-year-old continues to make his own work, develop his style and maintain his presence on the art scene.
McGee paved the way for black artists in Detroit. His figurative paintings and abstract sculptures pop up all over the city, where he has lived since 1934. His active life in the region's art scene has included teaching, board involvement and winning the Kresge Eminent Artist award in 2008.
"I have worked hard," McGee said, "but it's been a labor of love."
McGee was just 10 years old when he moved north to Detroit from South Carolina. At the time, he didn't wear shoes, had never seen an electric light and couldn't read. Starting school behind his peers compelled him to take hold of any opportunity he had to learn.
"The hunger and the thirst that I felt for school perpetuated the dogma in me to excel in whatever I was doing, regardless of what it was," McGee explained.
Dr. Julia R. Myers, who teaches art history at Eastern Michigan University and organized a 2009 show of McGee's work, believes that hunger affected the artist's work for decades.
"[Until the 1970s] he was always kind of catching up, he worked really hard," she said.
Once more influenced by the likes of Pablo Picasso and Joan Miró (McGee spent time in the latter's native Barcelona), Myers explained the Detroit artist began to develop a more contemporary style in the 1970s, when a teaching position at EMU immersed him in the art world.
"He was scrambling to make sense of everything in the contemporary world," Myers said. "[Then he] came forth with his own style."
(SCROLL DOWN FOR IMAGES)
McGee's constant drive to move forward keeps his work engaged, adaptable and relevant. His artworks span everything from painting to large metal sculptures.
"That is one of the most impressive things about him, that he does work in so many media," Myers said.
In his 80s, McGee taught himself to use a computer to design and commercially cut out pieces for his sculptures. He talks animatedly about Dibond, an aluminum construction material he realized would work well for sculpture because of its lighter plastic core.
"Necessity is the mother of invention, right?" McGee explained. "One thing I enjoy about using different materials is finding solutions. If you saw my studio you would see there's a plethora of material of all kinds ... everything, even parts of the building itself."
It's important, McGee said, to do whatever is necessary for a piece of artwork. For him, that even includes consulting with structural engineers.
While McGee has said the stroke made his work more difficult, according to Myers, there's little noticeable change to the persevering artist.
"I went to visit him in the hospital [after the stroke]," Myers said, "and he kept apologizing for how slow his speech was. ... But while he was still in the hospital he was already mapping out a plan for how he was going to finish this [piece]."
McGee is currently juggling several projects. He's been working on a piece he plans to submit to ArtPrize 2012, the annual public art competition held in Grand Rapids. He's also planning a work for Grand Valley State University, as well as a drawing for an upcoming show at the Detroit Artists Market.
DAM is an important place for McGee. He curated "Seven Black Artists" at DAM in 1969, one of the first shows in Detroit to bring real attention to the city's black artists.
"It just hit the public like a bombshell," Myers said. "People were just so overwhelmed and astounded by the quality of the art."
The acclaim propelled McGee to found Gallery Seven, which has shaped the careers of Detroit's emerging black artists. He is also one of the founders of the Contemporary Art Institute of Detroit.
"Gallery Seven was born out of a need," McGee said. "There were many black artists working in this area and not many places to show our work."
More than 40 years later, the significance of McGee's contributions continues to resonate beyond the art world.
"Everything is ephemeral anyways," he said. "Nothing remains the same; everything metamorphoses."
Unfamiliar with Charles McGee's art? We've created a guide to his art and influence in Detroit. Take the tour and check out images of the artist's work below:
Loading Slideshow
Charles McGee's Work Around Detroit

This guide shows many of the places to find McGee's work in Detroit, as well as locations from key moments in his career. Of course, if you venture out to Ypsilanti, Flint, Saginaw and elsewhere there are many other McGee works to be found.

"Noah's Ark: Genesis"

"Noah's Ark: Genesis" by Charles McGee, American, 1984. Enamel and mixed media on Masonite. Detroit Institute of Arts The natural, especially animals like bees and snakes, comes up in McGee's work frequently. According to Dr Julia R. Myers, it shows McGee's belief in the inherent equality of all living things.

"Freedombound"

The work "Freedombound" hangs on the rotunda of the Charles H. Wright Museum of African American History. It was donated by the artist.

"Lineage"

"Lineage" is on the Eastern Michigan University campus.

"Primary Connection"

"Everything is art, it just depends upon who gives it organization and what the purpose is," McGee said.

A Conversation With Charles McGee

Artist Charles McGee talks about driving forces in his work.

"Black Echo"

One of McGee's more controlled, abstract 2-D works.

"Celebration"

"Art to me is very didactic in that it must instruct," Charles McGee said. "It must be saying something. It's not just a decoration."

Speech At University Of Michigan

Charles McGee explains the use of technology in his work in this lecture.

"Regeneration"

This sprawling sculpture is more impressive in person.