As opposed to that other famous (former) Brad Pitt flame, Angelina Jolie rarely graces magazine covers. She occasionally throws Vanity Fair or W a bone, but most mags have to go without Hollywood's biggest female star (or just download file photos and slap cover lines on them, a la Harper's Bazaar).
So we were surprised to see Angie on the March 2012 cover of Vogue Turkey. After all, it's Vogue (albeit an international edition)! And she actually posed for Mert Alas and Marcus Piggott for the cover shoot!
We should be totally psyched. Instead, we're pretty disappointed. We're a fan of black and white photos, but not necessarily for covers. Plus this photo is an extreme closeup, omitting Angelina's best feature: her right leg.
After it made a splashy appearance on the 2012 Oscars red carpet, Angelina's right leg has surpassed Jolie herself in popularity (Angelina's not even on Twitter, while her leg has 33,543 Twitter followers).
Alas, for one of her rare cover appearances, Jolie decided to keep things simple, focused and legless. Do you agree that just a little something extra would improve this Vogue Turkey cover?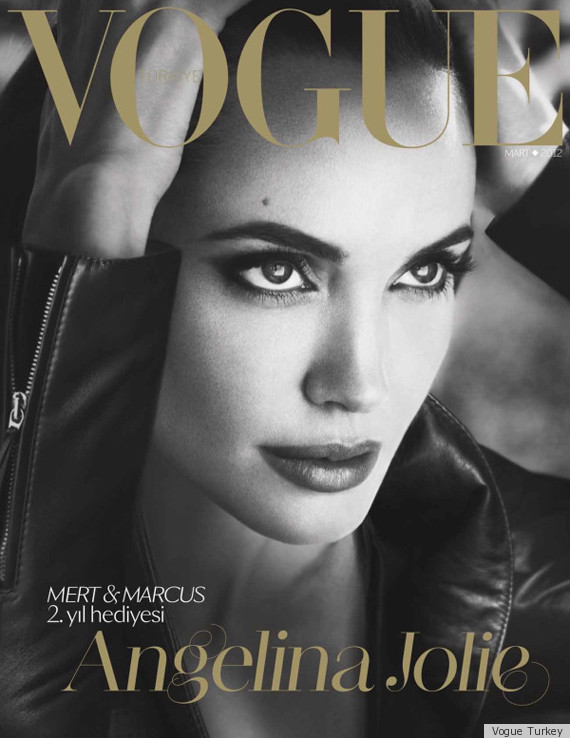 ALL-ALSO-ON-HUFFPOST
See more Angie covers!
Angelina Jolie Magazine Covers