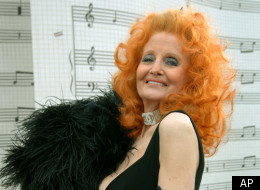 Calling someone a legend before they celebrate their 21st birthday might sound hyperbolic. But, in the case of burlesque dancer Tempest Storm, it just might apply -- with a notable caveat.
Storm, a fiery redhead known during the 1950s and '60s as "the Tempest in a D-cup," was born on Feb. 29, 1928, a leap year.
That means even though the calendar says she is turning 84, she is only celebrating her 21st birthday.
Some people might be a little anxious to wait 84 years for their first "legal" drink, but Tempest Storm says she never drinks so she is looking forward to other aspects of her unique once-every-four-years birthday.
"It keeps you young," she told HuffPost Weird News. "Certainly, my fans always know the date."
Yes, they do, according to Laura Herbert, the official historian of the Burlesque Hall of Fame, a Las Vegas institution dedicated to remembering or honoring dancers like Gypsy Rose Lee, Sally Rand, Lili St Cyr and, of course, Tempest Storm, whose bedazzled G-string is on permanent display.
"She is it," Herbert told HuffPost Weird News. "The term legend gets tossed around in the burlesque world, but she is a true legend. She is one of those whose name you've heard of, even if you don't know burlesque. She was the original bump-and-grinder."
The young woman born Annie Blanche Banks in Eastman, Ga., had already been married and divorced twice by the age of 20 before fleeing her small town in hopes of becoming a showgirl, according to the Associated Press.
She initially tried the stage name "Sunny Day," but took on "Tempest Storm" in 1950 and legally changed her name in 1957.
Her heyday was the "Mad Man" era, a time when burlesque performers hobnobbed with Hollywood royalty and didn't have the strip club stigma that later evolved.
"Men brought their wives to the shows," Tempest Storm said. "It was classy. I remember seeing movie stars like Burt Lancaster and Mickey Rooney at the shows with their wives."
But she said her personal career highlight came in 1973 when she performed at Carnegie Hall with the James Gang, an early 1970s rock group famous for hits like "Funk #49," and for early members like future Eagles guitarist Joe Walsh.
"I toured with them in these big auditoriums," she said. "It was unlike anything I had done before."
Along the way, the white woman from Georgia had four marriages, including one to Herb Jeffries, who worked with Duke Ellington and best remembered as the first African-American singing cowboy, at a time when interracial marriages were taboo.
For this moves like this, stand-up comedian Jessica Halem believes Storm and other burlesque dancers of the 1930s and '40s were the original feminists.
"With burlesque dancers, you're seeing [women owning] their powerful sexuality on stage," Halem told The Huffington Post in 2011. "Especially in an era when women otherwise were expected to be school teachers, mothers or secretaries. The women who did burlesque were saying, 'I don't want that. I want to travel.' They took a harder path, a path less taken."
Tempest Storm's career trajectory was even longer than her contemporaries. Although she officially retired in 1995 at the age of 67, she occasionally danced on stage until June 2010, when she broke her hip at the Plaza Hotel in Las Vegas, according to the Las Vegas Sun.
She still hosts burlesque shows featuring other performers, does autograph signings and is working on a possible TV series that she describes as "a burlesque version of 'Dancing With the Stars,' but says she misses shaking her "moneymakers" professionally.
"I would go back on stage if it wasn't for the panicky feeling I have now," she told HuffPost Weird News. "I'm back to wearing heels again."
Tempest Storm hasn't made plans for her birthday, but Herbert says her "big 21" is a huge deal in the burlesque world.
"We are planning a special tribute at the Burlesque Hall of Fame and we are asking all the burlesque clubs and performers around the world to do a special champagne toast in her honor," Herbert said.
Since she doesn't drink, she will not be indulging in any of that champagne. She shares some advice for those who wish to follow in her high-heeled footsteps: "I started out being a class act, and I stuck with it," she said. "I've taken care of myself."
Check out other burlesque beauties.
Stars Of Burlesque: Past And Present
Internationally-renowned neo-burlesque star Dita Von Teese says the best advice she ever got came from Dixie Evans who told her to imagine that the feathers were her "wings."

Inga Ingenue of Seattle is, literally, one of neo-burlesque biggest movers and shakers. She just won the burlesque competition at Viva Las Vegas, an annual rockabilly convention in Sin City.

When she isn't performing, Jo "Boobs" Weldon is the co-director of education at Burlesque Hall of Fame and runs the New York School of Burlesque.

Dirty Martini, who was chosen Miss Exotic World 2004, is considered the No. 1 burlesque performer by 21st Century Burlesque magazine.

Burlesque performers are usually females, but some guys get into the acts as well, such as Tigger, who was chosen as the Burlesque Hall of Fame's first ever "Boylesque" winner in 2006.

Kitten DeVille, who was Miss Exotic World 2002, is called the Queen of Quake for her majestic "shimmy."

Roxy Dlite, the pride of Windsor, Ontario, is the current Miss Exotic World, and specializes in aerial performances.

Angie Pontani, Miss Exotic World 2008, was born in Brooklyn and uses that in her "Brook-lesque" shows.

Amber Ray says she is inspired by classic burlesque, high-fashion, old Hollywood and the feminine mystique visible in every era.

Kalani Kokonuts, Miss Exotic World 2009, is known for her super over-the-top shows, that include blinding rhinestones and sequinned costumes.

Juli Atlas Muz, Miss Exotic World 2006, combines burlesque with performance art, and one of her routines has her dancing with a balloon over her head.

Gina Bon Bon was a huge burlesque star in the 1960s, and alternately known as the " Argentine Bombshell" and the "Love Potion Candy."

Miss Astrid is an interantionally known burlesque emcee, who created the Va Va Voom Room in San Francisco.

Dusty Summers was a nude magician back in the 1960s and 70s. These days, this Las Vegas local is a big supporter of neo burlesque and mentor to many upcoming burlesque performers.

In the 1960s and 70, Camille 2000 was known as "The Girl for Yesterday, Today and Tomorrow." She will be performing for the first time in 30 years at the Burlesque Hall of Fame's 54th Annual All-Star Burlesque Reunion taking place in Las Vegas June 2-5.

Dee Milo, was known as "The Venus of Dance."

Cynthia Yee is the founder of Grand Avenue Follies, an all-senior synchronized dance troupe from San Francisco's Chinatown. As a burlesque dancer, she was a headliner in many Chinatown cabarets.

Joan Arline, who was known as "The Sexsquire Girl," still performs and, even in her golden years, can still fit into her outfits.

Kitten Natividad, who, unlike other burlesque performers, has also worked in porn says the best part of performing is taking off her clothes in a room full of horny guys.