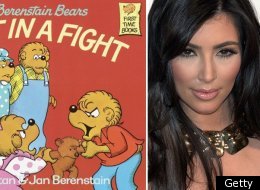 By Margaret Bristol for Bookish:
Generations of readers have been mourning the death of prolific children's author Jan Berenstain last Friday. Berenstain, who created The Berenstain Bears books with husband Stan (who died in 2005), leaves behind a legacy of simple lessons in over 200 million books sold, starting with "The Big Honey Hunt" in 1962. (Their first editor? None other than Dr. Seuss, aka Theodore Geisel, himself.) In addition to simple lessons like basic hygiene and manners, these beloved books teach a few life basics that some of today's boldface names could stand to learn.
As Brother and Sister had to learn in "The Berenstain Bears and The Blame Game," you need to take responsibility for your own actions. So even if you are sober, it's still not okay to (allegedly) get rough with a security guard at an Oscar party that you weren't invited to attend.

Do the girls ever stop yelling and just listen to each to other? Maybe Kim, Kourtney and Khloe should take a peek at "The Berenstain Bears Get in a Fight." It seems like someone in the Kardashian-Jenner clan is always playing ringleader to their arguments--just like Mama bear. Perhaps if the sisters K stopped and took a moment to listen, they wouldn't argue so much. But then again, that wouldn't make for very good television.

While we fully respect her talent and worth ethic, Jessica Chastain has gone the way of Jude Law and James Franco. She's everywhere. Last year, she starred in six different movies and she shows no signs of slowing down. It reminds me of "The Berenstain and Too Much Pressure", in which the Bear family is forced to take stock and learn to be realistic about how much activity they can manage. Chill out, Jessica. Leave some roles for the rest of Hollywood.

Okay, we get that part of his shtick is to show America the best greasy spoons and greasy food on "Man vs. Food." But would it hurt Adam Richman to take on, say, a giant salad? Take a tip from Mama Bear from "The Berenstain Bears and Too Much Junkfood." If you find your eating habits are less than healthy, put all the junk in the freezer. Nobody craves a frozen Dorito.

Anyone who has watched Teresa on "The Real Housewives of New Jersey" or "The Celebrity Apprentice" knows that she has an inclination for things that cost a pretty penny. With her financial troubles well-documented, perhaps she can learn to curb her spending with some advice from Papa Bear. In "The Berenstain Bears Trouble With Money," he helps Brother and Sister learn how to watch their wallets and keep their money in an interest-earning bank account.

The self-proclaimed gorillas and guidettes of MTV's popular reality show are known for their excessive use of foul language, a favorite being the "F-bomb." But someone should sit down with Snooki and The Situation and explain that their language might influence young people, just like Sister Bear in "The Berenstain Bears and the Big Blooper." There are just some words that you don't need to say out loud.

So maybe these guys already learned this lesson the hard way (Ashton Kutcher with his impolitic tweets about Joe Paterno and John Mayer, a recovering Twitter-holic), but perhaps if they had read "The Berenstain Bears' Computer Trouble," they might have avoided some grief from the public. When Papa Bear buys a computer, the whole family gets hooked, and it takes an intervention to bring them back to reality. So celebs, take a note from these guys and lighten up on the social media before you get yourself into trouble. We're looking at you, Kanye!