'iPad 3' Concepts: The Coolest Designs We'll Probably Never See (PICTURES, VIDEOS)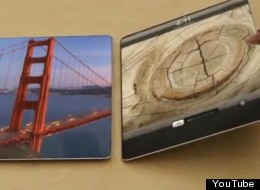 Rumors have been swirling for months and months about the next iPad's supposed specs and rumored release date. On February 28, Apple issued invitations to an iPad-themed event on March 7. We don't know for sure that we'll see a new iPad on that day, but the chances seem pretty high that we will.
For now, all we have are unconfirmed speculation about what the next iPad will look like and what kind of features it will offer. Rumor has it that the device will sport an ultra high-res Retina Display (2,048x1,536 pixels), a beefier internal components and possibly even 4G connectivity. As for its design, the device may get only minor cosmetic changes and could appear very similar to the iPad 2. But since we won't know for another week, we can still let our imaginations run wild.
While you're biting your nails in anticipation of March 7, join us for a romp through the world of gorgeous (yet mostly implausible) 'iPad 3' designs. Flick through the slideshow to view some of the best concepts from around the web, and let us know what you think the next iPad will look like. Then, check out some awesome (albeit fictional) designs for the 'iPhone 5.'
Aatma Studio posted this amazing iPad 3 concept video on its YouTube channel on February 28. The 3D animation and digital content studio presents a stunning iPad 3 design with an edge-to-edge display, holographic display capabilities, and the ability to connect magnetically and wirelessly to other iPad 3 devices.

This iPad 3 concept, featured on design site The Wondrous in December, turns the usual iPad design on its head -- or, rather, on its side. This iPad 3 is meant to be held horizontally, according to how the home button and camera are positioned. The artist who created the mock-up isn't mentioned, though it's likely the original was made by someone associated with LoopRumors.

MacMagazine featured this iPad 3 mock-up, which takes into account rumors that this next generation gadget will offer 3D video -- without the 3D glasses. The designer's name wasn't mentioned.

Dakota Adney, a 16-year-old Oklahoma-based amateur filmmaker, posted this cool (but fake) iPad 3 commercial on his YouTube channel last May. It features an iPad 3 concept that is completely transparent. Some of its other startling, hypothetical specs include a weight of just .6 lbs, 16GB of storage (impressive for a device so thin), 10-hour battery life, and 3G connectivity, according to the video's description.

Designer Guilherme Schasiepen created this iPad 3 concept for MacMagazine in July of last year and also posted the designs on his Flickr. If you want to get a better look of the mock-up, check out this 360-degree view.

Robrecht Vanhauwere, a talented 15-year-old Belgium art student, posted this super-skinny iPad 3 design on his deviantART page.

Vanhauwere actually designed three separate iPad 3 concepts -- here's one of the other ones, which features an interesting two-toned design detail. You can view the last one here.

This unique, all-silver iPad 3 design was featured on iPad 3 Release News last June, but the concept was not attributed to any artist.

iPad 3 Today featured this chunky concept by an unknown artist last June. The design seems to be a step backwards from the iPad 2 of today -- unless there's some serious hardware in its interior to account for its thick exterior.

This iPad design, previously featured on CNET, includes a stylus and wireless keyboard. While the concept's creator, Mike James, didn't specify this mock-up as one for the iPad 3, specifically, he does offer a unique perspective on the iPad device's endless possibilities.

This iPad 3 design by an unknown artist was also featured on iPad 3 Release News last June. It has oversized front and back cameras and seems to be a bit stouter than the iPad 2; other than that, however, it doesn't look very different.

This feed contains the video's "Apple's iPad 3 Is On Its Way" info API