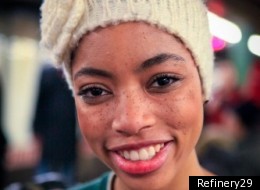 Contrary to the annual No Pants Subway Ride where a Metrocard swipe gets you a front row seat to a straphanger's tush, some attractive (clothed) New Yorkers are proving the subway can be the go-to place to find your daily dose of sexy.
Refinery29 compiled a pretty collection of the most dapper subway riders amongst us. So the next time you cringe at the sight of peeling paint or water damage, just look up and catch a glimpse of some fashionable missed connections.
After all, we subway riders are, according to Newt Gingrich, elitist, high-brow individuals. So be proud. You look good!
Below are our some of our favorite picks, and to see all 50 slides head over to Refinery29.