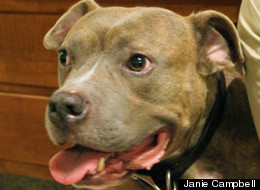 Pit bulls don't seem to be getting any closer to getting any political love in Miami-Dade.
To the dismay of the breed's advocates, a Florida House bill that would repeal Miami-Dade County's 23-year-old pit bull ban was one vote short Tuesday of continuing on to the House of Representatives, reports Miami New Times.
Activists are working against decades of stigma against pit bulls, often viewed as a dangerous breed and highlighted in the news for dog bites. The breed was outlawed in Miami-Dade in 1989 after 8-year-old Melissa Moreira was left disfigured after being attacked.
The debate has continued since then -- read New Times' takedown of pro-ban Miami Herald columnist Fred Grimm -- but the pro-pit side has gotten a little more star power. Marlins pitcher Mark Buehrle has been working tirelessly with his wife to allow ownership of the dogs in Miami-Dade after finding out he'd have to live in Broward County to keep his pit bull, Slater.
"My kids go up to him and hug him and squeeze him," Buehrle told the South Florida Sun-Sentinel. "He's an inside dog. People always go on the look of the dog, but it's not the look. It's how the dog is treated."
Buehrle and other advocates in Miami-Dade may take a small measure of hope from a similar situation in another state. Just this week, Ohio Gov. John Kasich reversed his state's listing of dangerous breeds, including pit bulls. It cost Ohio $17 million annually to enforce the law, which a Miami-Dade court has already ruled is essentially unenforceable.
WATCH Mark Buerhle and his wife push for pit bull love: