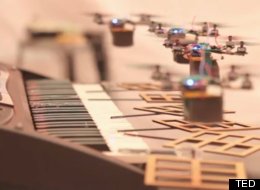 The annual Technology, Entertainment and Design (TED) conference offers amazing, inspiring, and thought-provoking presentations that often set tongues wagging.
And the talk of town at Long Beach, Calif., may be one of the most exciting yet: autonomous flying robots with a talent for music and a penchant for Bond -- James Bond, that is.
Roboticist Vijay Kumar and his team at the University of Pennsylvania's General Robotics, Automation, Sensing and Perception (GRASP) Laboratory riveted the crowd on Wednesday with video clips of their eight-inch, .1-pound, four-rotor autonomous flying robots performing 360-degree flips in less than half a second, zooming through hula hoops thrown into the air and building mini-structures -- all without human control.
But what really got the audience going at this year's conference was the very last clip of the presentation, a music video created by GRASP lab members and UPenn students Daniel Mellinger and Alex Kushleyev. The video featured nine of these flying 'bots playing the "James Bond" theme song using a keyboard, a drum, a cymbal, and even a guitar.
According to The Verge, this was all made possible with "infrared lights and cameras that capture the locations of the individual drones. The team then sets a series of 3D waypoints -- say a C-sharp note on the organ -- as well as times that the waypoints (notes) need to be hit."
While their performance was pretty impressive and highly entertaining, it's just one of many things these robots can do. Kumar made sure to point out their potential uses, which go beyond simple tricks.
For example, they could act as first responders, venturing into collapsed buildings or locations with biochemical leaks to measure damage or toxicity levels and effectively eliminating the need to put a human at risk. The development of larger models could even enable them to transport cargo, either individually or in a swarm formation.
The possibilities are indeed endless, and while Kumar and his team continue to ponder them, at least they've left us with an amazing video to enjoy. Check out a clip of the robots' "James Bond" music video (above) and make sure to watch the full TED talk by Vijay Kumar (below).
For more from TED 2012, read our exclusive post by conference curator Chris Anderson about this year's surprising TED Prize winner.
WATCH:
Check out the slideshow for some of the best TED talks from 2011 and earlier.
The Best Of TED Talks On Tech
At the July 2011 TEDGlobal conference, TED Fellow Lucianne Walkowicz discussed how the Kepler mission has helped us discover many new, far-away planets that might be habitable.

Berkeley Bionics' Eythor Bender at the TED2011 conference introduced exoskeleton designs that can carry heavy loads, allowing humans to hold more than they can naturally carry or even helping those without the use of their legs to walk at last year.

Julian Assange, editor-in-chief for whistleblower site Wikileaks, took the stage in July 2010 for a surprise Q&A with TED's Chris Anderson to discuss the aims of the site, how it operates and what it has accomplished.

In February 2009, MIT's Pattie Maes shows off a wearable device called 'Sixth Sense,' which lets the user interact with digital information that is overlaid on the physical world.

Heather Knight was joined onstage in 2010 by a robot standup comic named Data. The funny 'bot cracked jokes for the audience and adjusted its performance based on feedback from participants.

At the TED2011 conference, Eli Pariser, an online organizer and author of "The Filter Bubble," made a strong case against personalized web services, which often sacrifice important information or world-broadening ideas for specific preferences assigned to each of us by algorithms.

Ralph Langner, a German security consultant who analyzed the complex Stuxnet computer virus first discovered in 2010, more deeply explored how the virus works and what its purpose really is at last year's TED2011.

In the July 2011 TEDGlobal conference, biochemist and geneticist Cynthia Kenyon explained the anti-aging effects of a mutation in a worm's DAF-2 gene and discussed what this might mean for human aging.

In 2007, Anthony Atala explained the process and purpose of growing human organs in a lab and introduced TED-goes to the gizmos that make this fascinating innovation possible.

Facebook COO Sheryl Sandberg asked "why we have too few women leaders" and presented three creative solutions in December 2010's TEDWomen conference.

Blaise Aguera y Arcas demoed Photosynth in 2007, showing audiences how 2D photos can be used to create stunning 3D worlds that users can explore digitally.

In February 2006, Jeff Han exhibited his affordable high-res multi-touch display. The audience was blown away. The following year, Apple released its iPhone handsets, which featured a similarly equipped (though tinier) touch screen.

In 2008, Brian Cox spoke about his work on CERN's Large Hadron Collider, which, he informed his audience, "is the largest scientific experiment ever attempted." During his presentation, Cox guided listeners through the project's challenges and goals.

In 2008, Johnny Lee introduced his audience to Wii Remote hacks and showed how to turn the relatively inexpensive controller into a variety of teaching tools, such as a whiteboard, a touch screen and a 3D viewer.

In February 2010, Carter Emmart took his audience on a tour of the known universe in 3D, a 12-year project that combined the efforts of scientists, artists and computer programmers.

Stephen Hawking's talk at TED2008 presented popular theories that attempt to answer some of humanity's most troublesome questions: "Where did we come from? How did the universe come into being? Are we alone in the universe? Is there alien life out there? What is the future of the human race?"

In 2007, tech journalist David Pogue performed a delightful "TED medley" about the history of music and television on the Internet.

At the July 2011 TEDGlobal conference, TED Fellow and artist Aparna Rao presented a handful of her art installations, which demonstrate the humorous side of technology.

In February 2011, Dennis Hong introduced a revolutionary idea that might allow blind people to drive. This can all be done without using self-driving car technology -- robotics, laser rangefinders, and GPS tools presented through a non-visual interface could allow blind drivers to perceive the road ahead and control the car all on their own.

In 2009, paralympic athlete Aimee Mullins trotted out her 12 pairs of prosthetic legs and demonstrated how their various qualities enhance her body.

Ok, so it's not a real TED talk, but this teaser for the upcoming film "Prometheus" portrays the fictional "Peter Weyland" giving a rousing TED presentation in the year 2023. Conceived by Ridley Scott and Damon Lindelof and directed by Luke Scot, Weyland speaks in the video about the creation of "cybernetic individuals who in a few short years will be completely indistinguishable from us." The tenor of the talk is a bit more sinister than we're used to seeing at TED, but it sure makes us want to see this movie. Visit the TED blog to explore more about this promo.