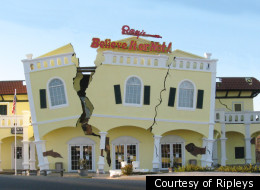 There are many unbelievable items at the Ripley's Believe It Or Not! Odditorium in Branson, Mo., including a full-size stagecoach made of toothpicks and the world's largest ball of twine.
Yet, what visitors find most unbelievable is how the building managed to narrowly avoid a tornado on Wednesday, according to FairCityNews.com.
Gary Daily, who has managed the Odditorium since 1999, says the tornado came within 40 feet, but did not touch the building.
Not that anyone can tell.
RIPLEY'S GALLERY (Story continues below)
Unbelieveable But True Images From Ripley's
Los Angeles-based anthropologist Kathy Hayes has toenails that are five inches long. She only wears open-toed sandals to protect her nails.

Adrienne Lewis of Michigan is only 14, but her tongue measures a whopping 3.5 inches.

British artist Adam Sheldon uses toast to make incredible portraits of people like Albert Einstein.

For 30 years, Lui Fei of China has been pulling snakes through his nose, sometimes two at once.

Millie Brown creates paintings by drinking dyed soy milk and vomiting it back on to a canvas. Her works sell for as much as $2,400.

This Belgian blue bull got its head stuck in a ladder in August 2011, but was able to be rescued without suffering permanent injury.

British artist Willard Wigan makes art works small enough to fit in the eye of a needle.

Louis Cole is willing to eat anything, including live bugs, mice, decomposing frogs and this live scorpion.

Los Angeles-based artist Cain Motter burns and melts old credit cards into unique scupltures that he sells for up to $1,200 -- to pay off his credit card bill.

Dr. Peter Terren of Bunbury, Western Australia, shot more than 200,000 volts of electricity through his body for this high voltage version of Rodin's "The Thinker." He avoided electrocution, in part, by wrapping his torse, arms and legs in insulating foil.

England's Gary Craig set a record of shorts, er, sorts, by putting on 211 pairs of underwear all at the same time.

Actor Nick Afanasiev can not only touch his own nose with his tongue, he can lick his elbow (you try it!).

Doug Higley, an artist from California, makes lifelike sculptures of mermaids, atomic death worms and, in this case, chupacabras using only manmade materials.

A water dog mermaid made by Higley, who once made 42 mermaids for a car promotion in which someone who purchased a car might find a mermaid in the trunk.

In 2010, BrewDog, a Scottish-based brewery, packaged bottles of its new beer, "The End Of History," inside the bodies of dead animals. The beer, which was 55 percent alcohol, cost $1000 if housed inside a dead squirrel and $750 if stuffed inside a stoat.

Chilean artist Fredo does 3-D pencil drawings that are all just pencil on flat paper. He is only 17, but is already exhibiting his work.

Chinese artist Yank Maoyuan creates animal sculptures by inflating the skins of dead animals.

At the annual Glen Nevis River Race in Scotland, competitors on inflatable airbeds navigate a treacheous 1.5 mile course down a river that includes a 30-feet waterfall.

Escape artist Anthony Martin skydives while handcuffed and shackled.

Some people are attracted to the idea of having tiny magnets inserted in their fingers so they can pick up metal items such as paper clips.

Hope the cat has 24 digits -- six on each paw.

Jinxi Boo, a mother of three in southern California, has 95 percent of her body covered in tattoos, including an octopus tat across her throat and neck that took 26 hours to complete.

Paul Stender's jet-powered bus can reach 350 miles per hour.

German skier Henrik May prefers sand to snow and developed a special type of wax that allows him to reach speeds near 60 mph down sand dunes.

Supatra Sasuphan of Bangkok, Thailand, has congenital hyperthichosis, a genetic condition that causes excessive hair growth all over the body. Less than 40 people in the world have it, but she hasn't let it stop her from following her dreams. She hopes to eventually be a teacher.

Tim Cockerill is known as the "Great Inferno" because he happily gargles hot molten lead until it cools and hardens into solid metal. During the day, he works as a zoologist.

Asha Mandela's hair measures more than 19 feet long; she hasn't cut it in 22 years.

British artist INSA created these 10 inch stiletto shoes with platforms made from elephant dung.
"The building was erected in 1999 to look like it had been hit by an earthquake that hit another part of the state in 1812," Daily told HuffPost Weird News. "But nothing happened to it, other than a loss of power for the day. However, the motel next door lost its roof."
The 400-yards-wide tornado tore through a nine-mile stretch of the heart of the Missouri town around 1:00 a.m. on Wednesday and caused damage to many of the theaters, shops, restaurants, hotels and motels, but no deaths,according to KSDK.com.
The Odditorium was not touched by the tornado, but Branson visitors are forgiven if they mistakenly think the Ripley's building was the one hit.
"It's interesting watching people go by," Daily admitted. "I wish we had a banner that said, 'We're supposed to look like this.'"
Most people might assume the Odditorium was just lucky to avoid the tornado, but some locals like Jake Stillworth think there are other explanations.
"I'd say that mighty black tornader seen the Ripley's building and figured it was already fallin' apart so there's no use in hitting it," Stillworth told the Fair City News. "Looks to me that the weird building done saved itself by the funny architecture."