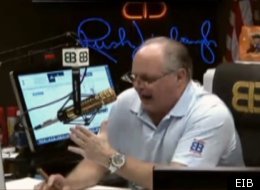 Rush Limbaugh is caught up in another firestorm of controversy over his incendiary comments about a birth control advocate. But the conservative radio host is no stranger to controversy, to say the least.
On Wednesday, Limbaugh sparked outrage when he called Sandra Fluke, a Georgetown law student who was denied the right to speak at a contraception hearing, a "slut."
The next day, he further fueled the controversy, adding, "If we are going to pay for your contraceptives and thus pay for you to have sex, we want something. We want you to post the videos online so we can all watch."
In the midst of the controversy, Limbaugh experienced a bomb scare on Thursday when a suspicious package arrived at his Florida home. No connection between his comments and the package had been established, according to police.
Below, see a compilation of Limbaugh's most controversial statements.
Limbaugh mocked China's president Hu Jintao in nonsense, ersatz Chinese.

Limbaugh claimed that Michael J. Fox was "exaggerating" the symptoms of Parkinson's disease in a political ad where he advocated stem cell research. Limbaugh said: He is exaggerating the effects of the disease. He's moving all around and shaking and it's purely an act. ... This is really shameless of Michael J. Fox. Either he didn't take his medication or he's acting.

In 2007, Limbaugh was criticized for referring to veterans who support the withdrawal of American troops from Iraq as "phony soldiers." He later claimed that he had been referring to people who claimed to be veterans but never actually served in the military.

On the eve of Obama's inauguration, Limbaugh said, "I hope he fails." He later doubled down on those comments at CPAC 2009, and on his radio show a few months later, and in 2011.

In 2007 and 2008, Limbaugh played a song by "Barack the Magic Negro" that was written and recorded for his show. In the song, political satirist Paul Shanklin impersonates Al Sharpton singing that white people will vote for Barack Obama "'cause he's not from the hood."

In the aftermath of the Japanese tsunami in March 2011, Limbaugh said: The Japanese have done so much to save the planet. He's right. They've given us the Prius. Even now, refugees are still recycling their garbage, and yet Gaia levels them [laughs], just wipes them out. Wipes out their nuclear plants, all kinds of radiation. What kind of payback is this? That is an excellent question.

In October 2011, Limbaugh described Kraft's new Triple Double Oreo as a "bi-racial cookie" and an "Or-Ba-Meo." This was not the first time Limbaugh has compared President Obama to an Oreo cookie. In a 2009 segment about food safety advocates, he said, "After that, they're gonna want the Oreos -- might have to put off until Obama's out of office."

In November 2011, Limbaugh accused Michelle Obama -- whom he frequently refers to as Moochelle -- of "uppityism" after she and Jill Biden were booed by NASCAR fans.

Limbaugh said, "What Mr. Loughner knows is that he has the full support of a major political party in this country. He's sitting there in jail. He knows what's going on, he knows that... the Democrat party is attempting to find anybody but him to blame. He knows if he plays his cards right, he's just a victim."

In November 2010, Limbaugh suggested that Rep. Jim Clyburn could chauffeur Nancy Pelosi if he failed to win the race for House minority whip. "He gets to keep the car. He gets to go everywhere she goes, parties and everything else," Limbaugh said. "He's not in the back of the bus. He's in the driver's seat, and she's in the back of the car being chauffeured. Solved problem."

Rush Limbaugh attacked Michelle Obama for her weight, calling her out for eating ribs on a trip with her daughters. "The problem is, and I dare say this, it doesn't look like Michelle Obama follows her own nutritionary, dietary advice," Limbaugh said. "And then we hear that she's out eating ribs at 1,500 calories a serving and 141 grams of fat per serving." He continued, "I'm trying to say our first lady does not project the image of women that you might see on the cover of the Sports Illustrated swimsuit issue or of a woman Alex Rodriguez might date every six months, or what have you."

Rush Limbaugh was back with another hit out on Michelle Obama's weight, days after criticizing her eating ribs while on vacation. This time, his comment was even more incendiary. "The point is, if you'ree going to do this, if you are going to tell everyone to eat twigs and berries and gravel and all this other stuff, you had better look like an Ethiopian."

After Herman Cain won the Florida straw poll, Limbaugh said that if elected president, "Herman Cain could be our first authentically black president." After explaining the comment to a caller, Limbaugh turned to his call screen "Bo Snerdley" (real name James Golden) for an Ebonics skit. RNC chair Michael Steele later called the skit "stupid."

In February 2012, Limbaugh reacted to the national debate about contraception with on a long rant about contraception, abortions and women. He alleged that Planned Parenthood is "a money-laundering operation for the Democrat party," and said, "The vast majority of people having abortions are Democrat voters."