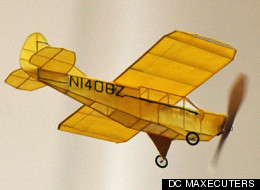 WASHINGTON -- This weekend, explore your inner child at events for kids and grownups alike.
On the docket: Family Day at the Corcoran, a high-flying circus show at Atlas Performing Arts Center and a model plane demonstration at the National Building Museum.
There's also a flamenco show, Anglo-Saxon gold on display and an exhibition featuring some tongue-in-cheek art. Click through the below slideshow and start planning your weekend.
Tonight, GWU's Lisner Auditorium hosts dancer Olga Pericet as part of Flamenco Festival 2012, which runs through March 7. Her program, "Rosa, Metal y Ceniza," combines "demanding technique, diverse dance traditions and jaw-dropping athleticism, and won the Revelación prize at last year's Festival de Jerez." Tickets range from $35 to $60, but for $60 to $90 patrons can add dinner at Jaleo's Bethesda or Crystal City locations. 730 21st St. NW.

Anyone in the mood for some free chocolate? Cocova is hosting a chocolate happy hour with Fresco Chocolate and founder Rob Anderson. Free. 5:30 to 8 p.m., 1904 18th St. NW.

Watch people soar through the air with the greatest of ease at today's performance by Zip Zap Circus USA and Airborne DC at Atlas Performing Arts Center. The performance will benefit Zip Zap, a service organization founded in South Africa now working in D.C. to "build community and empower young people." Tickets ($25) are available online. 5:30 and 8 PM, 1333 H St. NE.

As we mentioned earlier this week, The Fridge is tonight opening "KING ME: Studies in the Uncivilized World," an exhibit featuring the works of 37 D.C.-area artists. One example: this piece by Laura Elkins featuring Jacqueline Kennedy and Lady Bird Johnson in a lip lock. Free. Tonight's opening part goes from 7 to 11 p.m. 516 1/2 8th St SE (Rear Alley).

Round up the kids and head downtown: It's Family Day at the Corcoran Gallery of Art! This year's event is themed "Up, Up, and Away" and will feature gravity-defying performances, organic art workshops, face painting, and eco trivia and prizes. This is event is free and open to the public. 10 a.m. to 4 p.m. 500 17th St NW.

Just try to watch this video without smiling, we dare you. Today, the D.C. Maxecuters model airplane club visit the National Building Museum to fly their crafts, much to the amusement of everyone everywhere. Free. 11 a.m., 401 F St NW.

Remember when we told you about the "Anglo-Saxon Gold: Gold from England's Dark Ages" exhibit at the National Geographic Museum back in October? How time flies! Today's your last chance to catch it. The items on display were discovered in 2009 by a metal dectectorist in Staffordshire, England and are part of the largest hoard of Anglo-Saxon gold ever found. Tickets are $8. Hours are 9 a.m. to 5 p.m., 1145 17th St NW.