Limbaugh Advertisers: We Still Won't Sponsor Rush Anymore (UPDATED)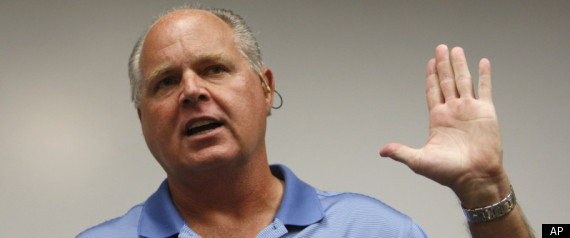 As the controversy grew over Rush Limbaugh's latest incendiary comments -- he called law student and birth control advocate Sandra Fluke a "slut" on Wednesday -- his show's advertisers began to flee in droves. The Associated Press reported on Sunday that seven companies have backed away from the show.
Mortgage lender Quicken Loans, mattress retailers Sleep Train and Sleep Number, online data backup service provider Carbonite, software maker Citrix Systems Inc., online legal document services company LegalZoom and flower company ProFlowers all pulled ads in reaction to Limbaugh's comments.
On Saturday, Limbaugh apologized for his words directed toward Fluke. But for at least one CEO, that wasn't good enough.
David Friend, who runs Carbonite, issued a statement on his company's website that evening, saying that Carbonite would no longer advertise with Limbaugh despite the host's rare admission of regret. From the website:
"No one with daughters the age of Sandra Fluke, and I have two, could possibly abide the insult and abuse heaped upon this courageous and well-intentioned young lady. Mr. Limbaugh, with his highly personal attacks on Miss Fluke, overstepped any reasonable bounds of decency. Even though Mr. Limbaugh has now issued an apology, we have nonetheless decided to withdraw our advertising from his show. We hope that our action, along with the other advertisers who have already withdrawn their ads, will ultimately contribute to a more civilized public discourse."
ProFlowers also explained why it was pulling ads. Via its Facebook page on Sunday, the company criticized Limbaugh's comments as "beyond political discourse to a personal attack" and stressed that they "do not reflect our values as a company."
Disclaimer: AOL, the parent company of The Huffington Post, has an advertising deal with Rush Limbaugh.
UPDATE (3/5/12):
AOL announced on Monday that it is pulling its money from Limbaugh's radio program. "At AOL one of our core values is that we act with integrity," said Maureen Sullivan, an AOL spokeswoman. "We have monitored the unfolding events and have determined that Mr. Limbaugh's comments are not in line with our values. As a result we have made the decision to suspend advertising on The Rush Limbaugh Radio show."
Related on HuffPost:
Some of Limbaugh's most controversial statements.
Limbaugh mocked China's president Hu Jintao in nonsense, ersatz Chinese.

Limbaugh claimed that Michael J. Fox was "exaggerating" the symptoms of Parkinson's disease in a political ad where he advocated stem cell research. Limbaugh said:

He is exaggerating the effects of the disease. He's moving all around and shaking and it's purely an act. ... This is really shameless of Michael J. Fox. Either he didn't take his medication or he's acting.

In 2007, Limbaugh was criticized for referring to veterans who support the withdrawal of American troops from Iraq as "phony soldiers." He later claimed that he had been referring to people who claimed to be veterans but never actually served in the military.

On the eve of Obama's inauguration, Limbaugh said, "I hope he fails." He later doubled down on those comments at CPAC 2009, and on his radio show a few months later, and in 2011.

In 2007 and 2008, Limbaugh played a song by "Barack the Magic Negro" that was written and recorded for his show. In the song, political satirist Paul Shanklin impersonates Al Sharpton singing that white people will vote for Barack Obama "'cause he's not from the hood."

In the aftermath of the Japanese tsunami in March 2011, Limbaugh said:

The Japanese have done so much to save the planet. He's right. They've given us the Prius. Even now, refugees are still recycling their garbage, and yet Gaia levels them [laughs], just wipes them out. Wipes out their nuclear plants, all kinds of radiation. What kind of payback is this? That is an excellent question.

In October 2011, Limbaugh described Kraft's new Triple Double Oreo as a "bi-racial cookie" and an "Or-Ba-Meo." This was not the first time Limbaugh has compared President Obama to an Oreo cookie. In a 2009 segment about food safety advocates, he said, "After that, they're gonna want the Oreos -- might have to put off until Obama's out of office."

In November 2011, Limbaugh accused Michelle Obama -- whom he frequently refers to as Moochelle -- of "uppityism" after she and Jill Biden were booed by NASCAR fans.

Limbaugh said, "What Mr. Loughner knows is that he has the full support of a major political party in this country. He's sitting there in jail. He knows what's going on, he knows that... the Democrat party is attempting to find anybody but him to blame. He knows if he plays his cards right, he's just a victim."

In November 2010, Limbaugh suggested that Rep. Jim Clyburn could chauffeur Nancy Pelosi if he failed to win the race for House minority whip. "He gets to keep the car. He gets to go everywhere she goes, parties and everything else," Limbaugh said. "He's not in the back of the bus. He's in the driver's seat, and she's in the back of the car being chauffeured. Solved problem."

Rush Limbaugh attacked Michelle Obama for her weight, calling her out for eating ribs on a trip with her daughters. "The problem is, and I dare say this, it doesn't look like Michelle Obama follows her own nutritionary, dietary advice," Limbaugh said. "And then we hear that she's out eating ribs at 1,500 calories a serving and 141 grams of fat per serving." He continued, "I'm trying to say our first lady does not project the image of women that you might see on the cover of the Sports Illustrated swimsuit issue or of a woman Alex Rodriguez might date every six months, or what have you."

Rush Limbaugh was back with another hit out on Michelle Obama's weight, days after criticizing her eating ribs while on vacation. This time, his comment was even more incendiary. "The point is, if you'ree going to do this, if you are going to tell everyone to eat twigs and berries and gravel and all this other stuff, you had better look like an Ethiopian."

After Herman Cain won the Florida straw poll, Limbaugh said that if elected president, "Herman Cain could be our first authentically black president." After explaining the comment to a caller, Limbaugh turned to his call screen "Bo Snerdley" (real name James Golden) for an Ebonics skit. RNC chair Michael Steele later called the skit "stupid."

In February 2012, Limbaugh reacted to the national debate about contraception with on a long rant about contraception, abortions and women. He alleged that Planned Parenthood is "a money-laundering operation for the Democrat party," and said, "The vast majority of people having abortions are Democrat voters."