NJVMA's Animal Hall Of Fame 2012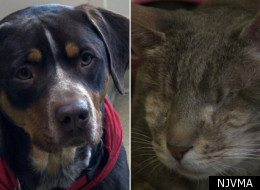 Every year, the New Jersey Veterinary Medical Association (NJVMA) honors the state's bravest, most compassionate and affectionate animals in its Animal Hall Of Fame awards. Past winners have included a 'kissing pony,' a two-legged Chihuahua who fundraises for disabilities and a dog who saved a woman having a heart attack.
"Animals are a special part of our everyday lives. The (awards) give all animal lovers a chance to celebrate the uniqueness of the human-animal bond," said Dr. Peter Falk, Chair of the Animal Hall Of Fame Committee in a press release.
This year's winners include a rescued dog who now administers therapy, a stray cat who comforts people at a veterinary office and a Westminster Kennel Club winner who works with veterans.
The awards ceremony will take place on Sunday, March 4.
Check out our slideshow of New Jersey's animal heroes.
Sammy is a Redtick-Coonhound mix who works as a therapy dog. According to the NJVMA, "He participates in special education classes, regularly visits nursing homes and visits the pediatric unit and other various hospital units at least once a week."

Fred is part of the team at the Best Friends Veterinary Hospital in New York. Before that, he was undernourished and neglected. According to the NJVMA, "He is now known as the comforter at the Best Friends Hospital. He monitors the hospital lobby and consoles grieving pet-owners in a way that no human can."

Rufus, a Bull Terrier, won the Best In Show title at the 2006 Westminster Kennel Club. But this therapy dog also makes weekly visits to a nursing rehabilitation center. The NJVMA says: "(Rufus) is also the 'spokes-dog' against breed specific legislation. He has made great strides in connecting with the wounded warriors at the Walter Reed Army Medical Center in Washington, D.C."

Madison and Angelina (next slide) are extraordinary therapy cats who work particularly well with Alzheimer's patients. According to the NJVMA, "While visiting with these cats, non-participatory patients have shared their experiences with a cat in their personal lives. Madison and Angelina frequently visit nursing and rehabilitation centers where they decrease patient agitation and increase patient comfort."

Kim Kilmer is the owner of Schultz Senior Dachshund Sanctuary. According to the NJVMA, "Kilmer has not only placed over 100 senior Dachshunds, but also assisted elderly Dachshund owners who are no longer able to care for their dogs. Kim also provides aid to special-needs dogs, who otherwise may have been euthanized."

Memphis was a police 'canine officer' who conducted "hundreds of narcotic searches, made four subject apprehensions and located two suicidal subjects." Memphis lost his battle against cancer and is being inducted into the '2012 Animal Hall Of Fame' posthumously.