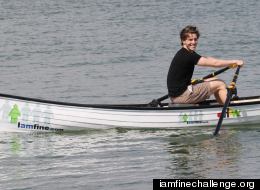 He has no prior rowing experience, his boat is not designed for ocean travel, and his great-great uncle nearly died off the coast of Fort Lauderdale the last time his family attempted boating in the Sunshine State.
But 24-year-old Brit Lewis Colam has given up his London job and hopped across the pond to row 1,400 miles solo and unsupported from Miami to New York City, all in a bid to raise money for Alzheimer's research [follow his adventure at iamfinechallenge.org.]
"[The boat] seems to float very well, which my mom will be happy to hear," Colam told the Gainesville Sun before setting out from Miami's Pelican Harbor on Saturday.
The novice adventurer plans to snake his way north rowing up to 18 hours a day split between open Atlantic waters and the Intracoastal Waterway -- more Atlantic, he says, in part to avoid alligators.
"I'm a bit scared that one of them tries to get on the boat," he confessed to the York Press. It's unlikely, but then, we aren't the ones sleeping open to the elements in a 15-foot rowboat. Colam will have little more on board than a change of clothes and a sleeping bag designed to keep him warm at night as he moves up the East Coast to colder climates.
The trip's success seems unlikely for a former desk-ridden management consultant with no seafaring experience, but Colam has extra motivation. After watching his grandmother succumb to Alzheimer's, he is hoping to raise $20,000 to present on arrival to the Fischer Center for Alzheimer's Research Foundation in New York.
According to the Islington Tribune, more than 100 people have already committed to helping Colam by sailing, kayaking, or rowing alongside for a leg of the journey.
"In England, especially, there is a lot of skepticism," he told the South Florida Sun-Sentinel. "But I find that here in America, people here are just so happy to see someone try something that's a bit beyond you."
Listen to Colam's daily audio updates on his journey here (spoiler: it is hot, and he has learned about crabs from a man named Monkey).
HOW YOU CAN HELP: Donate to Colam's 'I Am Fine Challenge' to support the Fischer Center For Alzheimer's Research Foundation.
UPDATE, March 5: Colam told HuffPost Miami on Monday that after bad weather yesterday he is just north of Fort Lauderdale -- and though his hands are blistered the trip is going very well: "I'm absolutely loving it!" After being nearly run down in high seas by an oil tanker in the Everglades inlet, Colam woke up to hundreds of readers' emails of encouragement and offers of water and places to stay. "The reason I made such slow progress today is I was trying to read them all," he said. "It's all so heartwarming." Follow Lewis on Twitter at @us_rowed_trip.
"There is lots to celebrate."

"I've broken the back and I can see how I'm going to finish."

"Look what was anonymously slipped into the boat for the charity as I slept."

"I'll never have a career as a hand model, unless Nivea is up for the challenge."

"Paula takes me to dinner at her restaurant Uncle Bubba's."

"Paula's husband Michael Groover promised to fill my belly when I stopped at his house in Savannah. It takes some filling these days. Hope I didn't take too much."

In Savannah, Georgia.

"Michael Groover told me enough funny stories that evening to keep me entertained all the way to Charleston."

"Had the ring cut off by the doctor today. He also told me to soak my foot in bleach water after I cut it on an oyster. He also told me I could drink bleach and that he met his wife in rehab. Not sure if he's a real doctor. All I know is that my foot stung a lot."

"Rowing with gloves gives me a bad tan line. Looks like I've had a hand transplant from the Milkybar kid."

"Rodney, Taylor and alexis drove 30 miles to a bridge as the sun set in florida last night to hand me dinner. They heard about me and wanted to help get me to New York."

"Saw my first dolphin. It swam right up and almost touched me as I waded the boat out this morning."

"Row Lewis Row! We're all behind ya mate! Carry on chap."

"Setting off from Miami with too much stuff."

"Lewis Colam and all his gear strewn about before he began his big journey earlier today."

"Using the lantern as I prep for first night at anchor. Something kept banging the side of the boat at night. Scary."

"First night at anchor. Not sure if there are gators here. Something kept brushing against the outside of the boat."

Day 2.

"Sharing the water with this makes you feel very small."

"My route: Miami to New York"

"Just received my waterproof sleeping bag from Ocean Sleepwear. Mum helped by pouring water over me as I slept."

"First design: using a rope and tarp to keep the rain off."

"With Bill Larson of Little River Marine trying to work out how I can use the oars which I will be carrying anyway to make a cover."

"My new home. Not much room for a house warming."

"A view from my bed - Bill saw a cottonmouth snake in those reeds. I'm not sure what it is but its not invited on board."

Training row at home.

"Life jacket going to have to be in hand luggage then. Goodbye upgrade to first class."

"Test run in the lake."

"Miami Beach."