Santigold 'Disparate Youth' Off 'Master Of My Make Believe' (VIDEO)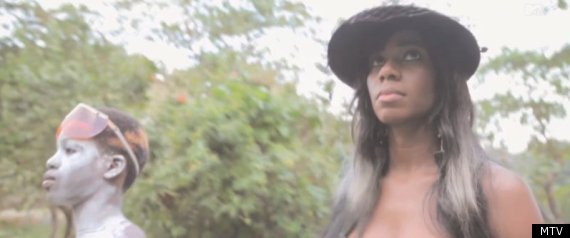 Most of the world knows Santi White by the name Santigold, her stage name, and the title of the 2008 debut album that got everyone talking. Now it's the Philly-born singer's upcoming album that's making headlines. Coinciding with the NYT premiere of the cover art for the May 1 album Master Of My Make Believe, is the release of Santi's second video off the album: an island adventure for the single "Disparate Youth."
The drowsy track features a mix of synth, reggae beats and a title that knowingly or not calls out the respected names working on Master -- in this case, Dave Sitek of TV On The Radio, whose acclaimed debut album was Desperate Youth, Bloodthirsty Babe. The video itself is as different from the earlier-released "Big Mouth" as it could possibly, with muted colors and an actual plot. Here Santi treks through a "Lost"-like landscape in search of enlightenment, which she may or may not find after encountering the painted boys of an island tribe. The single drops April 9. Take a look below.
WATCH:
[via MTV]