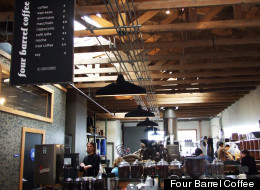 So much for the home of Starbucks.
A new Facebook survey has declared the best coffee shops across the country, revealing a surprising diversity of top-notch joe around the U.S. but snubbing shops in Seattle.
Sponsored by coffee company Krups, the second-annual "Best Brew Awards" polled Facebook fans for their local favorites.
While it's no surprise that well-caffeinated New York and Chicago make this list, it seems the West Coast coffee scene has migrated south: Both San Francisco and Los Angeles get nods from Krups' fans.
The Country's Best Coffee Cities
Condessa Coffee

Thinking Cup

Metropolis Coffee Co.

White Rock Coffee

Tinta y Café

Café Dulcé

Ninth Street Espresso

Elixr

Four Barrel Coffee

M.E. Swing Co.

KIVPossum:Malaprops bookstore in Asheville is my favorite. Excellent coffees and teas, free refills, wonderful staff, and a pleasant place to browse or sit

Angela Trostle:Not only does Gregorys have the BEST iced coffee but it comes with one of the most amazing iced coffee accesories I've ever seen, The Gregorys Growler. It actually keeps your iced coffee fresh for 5 days. Not to mention they have a great atmosphere. As one of the only non-starbucks coffee shops in midtown Manhattan it's my only stop for the best brew.

Jess Mgdefrau:Sambalatte is an exclusive caffee and espresso lounge in Las Vegas. It offers local items in a casual atmosphere. It has an organic touch and very extensive coffee menu. Sambalatte offers community tables with re-chargable wi-fi stations, a book library and an open space to conduct business meetings and live music every night.

Brittany Lince:Named after Portland's nickname, this coffee shop roasts their own beans and trains their baristas to create the best coffee concoctions on the west coast, if not, the northern hemisphere!

Kirsten Howell:Seattle, WA - Pike Place Starbucks

allpa:Harolds Coffee Lounge is in the Northwood Village section of West Palm Beach Florida. This little known gem is, well, little but they have the best cold-brewed coffee in the area. They have well trained staff and comfortable indoor and outdoor seating to take advantage of the Florida Weather.

kcahen:Beans and Brews is a awesome place to get a cold or a hot coffee in Salt Lake City,Utah. The interior is warm like Starbucks but the coffee here is half the price. They also have packaged coffee and cups for sale as well as having free wi-fi.

hvillecoffee:Hot or iced, black or with cream, Hogansville Coffee is the best in West Central Georgia!