Dennis Holland's Backyard Ship Must Go, Says Judge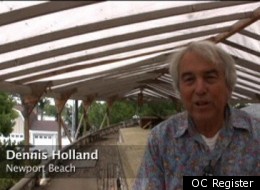 NEWPORT BEACH, Calif. -- A Southern California man who's been restoring a 72-foot antique boat in his yard has been ordered to move the vessel.
The Los Angeles Times reports a judge issued a preliminary injunction last week saying 65-year-old Dennis Holland must move the boat before a trial to determine its long-term fate begins April 30.
He has been restoring the 1916 ketch called the Shawnee in his Newport Beach yard since 2006 and had a permit to do it, but it expired last year when he refused to give a completion date.
The City Council then voted to pursue legal action.