Grant Achatz Talks Cooking At Home And His Secret Vice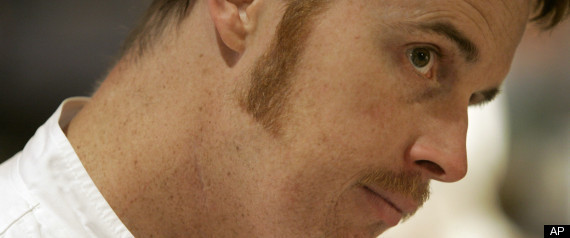 Wall Street Journal :
Since opening his mad scientist lab of a restaurant Alinea in 2005, Chicago-based chef Grant Achatz (rhymes with jackets), 37, has earned formidable accolades, including three Michelin stars and the James Beard Foundation's Best Chef award. He has also battled stage 4 squamous-cell carcinoma of the mouth, a struggle he recounted in "Life on the Line," one of two books he has co-written with his business partner Nick Kokonas. With his cancer now in remission, Mr. Achatz recently opened two more spots in Chicago: Aviary, a cocktail lounge, and Next, a restaurant featuring prepaid tickets and a fanciful, frequently changing menu. (Next's 29-course El Bulli-inspired menu wraps up in May.) Mr. Achatz relaxes at home in Wicker Park with his two sons, Keller (named for Mr. Achatz's former boss, chef Thomas Keller), 8, and Kaden, 10.

Read the whole story: Wall Street Journal