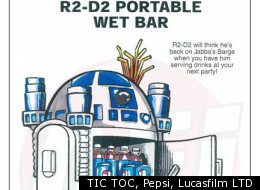 Wish you could impress your friends with a set of Luke Skywalker and Darth Vader salt and pepper shakers? Too bad. That's just not possible.
The salt and pepper shakers are just some of many merchandise concepts that were rejected by the Star Wars creators, according to a post by Jason Geyer on Action Figure Insider blog. Geyer and his co-workers initially created the product concepts for the launch of "Star Wars Episode I: The Phantom Menace," which came out in 1999. Other rejected merch ideas: A R2-D2 wet bar and Yoda bottle cappers for Pepsi products.
Because Geyer and his co-creators didn't work for Lucasfilms, they needed to come up with the product ideas without the storyline for the Phantom Menace, instead only using their knowledge of the previous films, Geyer explains in his post. If the Star Wars people liked the idea, they would let Geyer and his colleagues see some of the movie's storyline and artwork to make it better.
If the numbers are any indicator, the Star Wars merchandise gods know what works and what doesn't. The franchise has raked in $1.6 billion in video games sales and another $9 billion in action figures and other toys, according to Visualizing Economics. In addition, Star Wars has made $20 billion in licensing fees, according to 24/7 Wall Street.
As of 2010, Star Wars was the second-highest grossing film franchise of all time, according to MSNBC, second only to the Harry Potter series.
Check out some of these fun, yet rejected Star Wars merchandise ideas:
Star Wars Rejected Merchandise
"R2D2 will think he's back on Jabba's Barge when you have him serving drinks at your next party! This protable wet bar keeps cups on top, has an ice drawer, and storage space for all your Pepsi cans."

"See the dark power of evil swirl around inside Darth Vader!"

"Let these legends of the kitchen table be a constant reminder of the battle over good and evil in the galaxy."

"Protect your ships from alien elements with this fearsome Darth Vader chip clip, or use it's magnetic backing to hold notes on the fridge."

"Authentic replica of a Jedi's elegant weapon. Comes with detachable belt clip."

"Let the Dark Lord of the Sith announce your presence when you use this handsome metal door knocker to gain entrance into the home."

"This is no ordinary basketball, it's a replica of the Emperor's most powerful weapon."

"Have a seat where few have dared with this inflatable throne."

"Find 'the hero within' each bottle of Pepsi. Under each cap is a surprise Star Wars character statuette."

"Project a galaxy of star on your wall or ceiling with this portable Death Star shaped projector."

"Star Wars inspired pop music shaped like the Millenium Falcon. Comes in a lenticular covered jewel box."

These bottle toppers were eventually produced and doubled as finger puppets.