Stephen Colbert Muses On Mini-Chocolate, Second Breakfast, New Vistas Of Mealtime (VIDEO)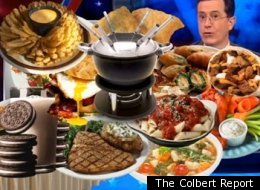 Last night on the "Colbert Report," Stephen Colbert mused on the state of food. His touched on a wide array of subjects, from Mars' decision to make smaller candy bars ("I would cry but my tear ducts are clogged with nougat") to second breakfast ("sometimes I get hungry during breakfast").
Colbert ended the segment on a positive note, though, asking viewers to help him explore "new vistas of mealtime." Apparently, there are a lot of options besides breakfast, lunch and dinner. Anyone up for a post-breakfast, pre-brunch meal?
WATCH: