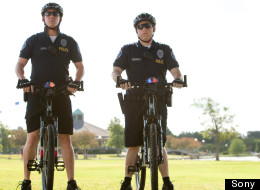 What the South by Southwest Film Festival lacks in mainstream exposure, it makes up for in coolness. Forget Sundance, Cannes, Toronto and Telluride: Austin is where the hipper (and hipster) film fans direct their gaze to find their big deal movies. This year, however, SXSW is home to plenty of high-power features, filmmakers and stars. From Joss Whedon and Chris Hemsworth to Jonah Hill and Channing Tatum, some of Hollywood's best will be debuting new films in Texas during the next week.
Ahead, the seven most-anticipated films screening at SXSW. The film portion of SXSW runs from March 9 through March 17. For more on the festival, click here.
PHOTOS:
After premiering at Sundance back in January and nabbing a distribution deal from FilmDistrict, "Safety Not Guaranteed" has made its way south. The film -- based on a 2005 Internet meme about a man who placed a classified ad looking for a time-travel companion -- stars Aubrey Plaza ("Parks and Recreation") and Jake Johnson ("New Girl") and could be the quirky romance that your hipster friends just need to see when it hits theaters this June.

Matthew Lillard is having a moment. After being the guy who stole George Clooney's wife (!) in "The Descendants," the former Shaggy makes his directorial debut with "Fat Kid Rules the World," a drama about a suicidal overweight teen (Jacob Wysocki) who joins a punk rock band. Fun fact: Pearl Jam's Mike McCready did the music!

Normally when a movie sits on the shelf for three years, it's a sure sign of disaster. In the case of "The Cabin in the Woods," however, it was just a matter of bad timing. Shot in 2009, the film was originally set to get released in Feb. of 2010, but MGM delayed its release to Jan. of 2011 before filing for bankruptcy. That was shifted to April 13, 2012 when Lionsgate picked up "Woods" last summer. This all boils down to one thing: now you'll finally get to see one of the best and most inventive horror movies to come out in the last three years. Co-written by Joss Whedon and Drew Goddard ("Cloverfield") and directed by Goddard, "The Cabin In the Woods" stars Chris Hemsworth and a bunch of fresh-faced youngsters, who travel to the titular residence and come across all kinds of terror. The film will open SXSW on Friday, meaning you can expect your Twitter feed to tell you about its awesomeness pretty much straight through the next week.

After premiering in Berlin back in February, "Marley" -- a documentary, not surprisingly, about Bob Marley (not another heart-wrenching dog flick) -- will have its North American debut at SXSW before it opens in April. Director Kevin MacDonald ("The Last King of Scotland") directs the nearly two-and-a-half hour feature, which focuses on Marley's life and tragic death.

In front of its theatrical debut on March 16, "21 Jump Street" will screen for audiences at SXSW. Which, if things go according to plan -- 20somethings singing the praises of Jonah Hill -- will prove a shrewd business move. Carried by raunchy humor, blistering action and a star-making performance from Channing Tatum, "Jump Street" has the chance to strike the same gold as "Bridesmaids," which screened at SXSW last year.

All you need to know about "Small Apartments"? It's crazy cast: Matt Lucas, Billy Crystal, Juno Temple, James Marsden, Peter Stormare, David Koechner, Rosie Perez, Dolph Lundgren, with James Caan, and Johnny Knoxville. One, please!

Celebrity photographer Kevin Mazur directs the documentary "$ellebrity," which features stars like Jennifer Aniston and Jennifer Lopez discussing fame and fortune in the TMZ era. Will the stars be as candid as you want them to be? Here's hoping.