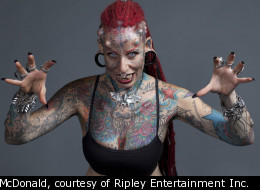 This vampire's hungry for change.
Maria Jose Cristerna, the 35-year-old "Mexican Vampire Woman," lives a normal life at home, waking the kids up for school, making her hubby breakfast, and getting ready for work at the tattoo parlor.
But she can't forget how her childhood was ripped apart by domestic violence -- it led her to express herself through body modification.
Now, she wants to join the fight against abuse in the home.
Watch this video and view our slideshow of Cristerna below.
The "Mexican Vampire Woman":
Vampire Woman Maria Jose Cristerna
Maria Jose Cristerna is a 35-year-old former attorney from Guadalajara, Mexico, who is better known as the "Mexican Vampire Woman" thanks to the large amount of body modification she has had done, including piercings and tattoos all over the body, and the titanium horns she had surgically embedded in her skull.

Ripley's Entertainment recently brought Cristerna to their Orlando, Fla., headquarters so they could take body casts of her and create at least five lifesize urethane figures of her for Ripley's Believe It or Not! attractions around the world.

For Cristerna, the wax casting was the fulfillment of a long-held fantasy. "It' my vampire dream to be immortal!" she told HuffPost Weird News through a translator. "I have always loved Ripley cartoons, and have admired Ripley's since I was a little girl, so my dream came true."

Ripley's sculptor Bruce Miller says Cristerna's head presented the biggest challenge. "She has really long hear -- dreadlocks -- and we had to hoist them up over a light fixture to keep them out of the way," he said.

Miller said that Cristerna's famous horns also presented a challenge. "She was actually sore from bumping her head a few days ago, so we had to leave them out of the wax casting and add them later," Miller said. "Plus, we've had to cast around her lips and nose piercings."

Miller says the biggest challenge is yet to come: duplicating the tattoos. "They are so intricate. We have a lot of hours ahead of us," Miller said.

Cristerna is excited to see the finished product, but she's already convinced it will be good. "I will love it, not just the image, but what is behind me and what I am fighting for, the motive for this is not just my skin, but what is inside me," she said.

No word on when the Vampire Women sculptures will be unveiled, but there may have to be modifications because Cristerna is not a finished product. "I'd like to remove the floating ribs to decrease the size of my waist and have more implants in my arms," she said. "It's a woman's vanity to want to look better!"