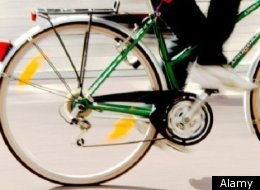 Just signed up for a triathalon? Interested in swapping out your car for a commuter bike?
With spring right around the corner, creating more bicycling-friendly weather in many climates, a new cycling regimen is a great way to get in shape, save on gas money and lower your carbon footprint. But it can be intimidating to get started. With most bikes running between $300 and $3,000, a new set of wheels can be a major investment.
Luckily, Bicycling Magazine has shared their top tips and favorite models, handpicked by their editors and expert testers, from the newly released 2012 Buyer's Guide as part of their April Issue -- there's even an extended, first-ever iPad edition, more than 200 bikes and gear reviewed. We got a sneak peak and learned a great deal about what to look for in our next model. Whether you're a commuter newbie or a weekend warrior, here's what to know before you set foot in the bike shop.
A few basics:
Shop around: Bikes and bike shops vary greatly -- and what suits someone else may not necessarily jibe with your lifestyle, fitness goals, or even your particular anatomy. It's important to find the right bike, so take some time to comparison shop.
Test drive: You wouldn't buy a car without getting a feel for its handling and control, would you? The same goes for bikes. If a shop won't let you take its merchandise for a spin around the block, it's time to find a new place to patronize.
Ask for freebies: Free tuneups, maintenance, tire air and other little perks are very often on offer at your local bike shop. Make sure to ask.
Budget in essential extras: A bike isn't safe without a helmet, lights or reflectors for night riding, a horn and a lock -- make sure you have enough room in your bank account for these as well.
More tips from Bicycling, if you're in the market for ...
If you're looking to commute on two wheels, you and your bike are going to be spending some quality time together. That means that your foremost concern should be fit and comfort. According to Bicycling Magazine, seat height is the most important factor involved in fit. The Raleigh Port Townsend, $900 offers a comfortable upright riding position.

Hauling groceries, work stuff and even small children is a nice feature of a top city bike, so you want to make sure your model can shoulder the burden of some heavy cargo. What's more, you're going to need accessories -- and that means you've got to save some money for extras. So if you can spend $800, get a slightly cheaper frame so you'll have enough leftover for helmet, horn, lights and storage. The Kona MinUte, $1,000 has a carrying capacity of 300 lbs and comes with a panier for carrying your stuff

Bike theft is a big concern in the city. So look for thoughtful design features that make security easy, like an easy-to-use lock bracket and bolt-on rather than quick-release wheels. Giant Via 3, $410 has well designed safety features, especially for the price point

Every city commuter will find him or herself carrying a bike up and down stairs: to a friend's house, to the subway, wherever. For such occasions, it's important to have a light ride. And, having a light frame means picking up speed will be easier -- an important safety feature in occasionally dangerous traffic situations. For more on safe commuting, check out this video on how to navigate traffic. Specialized Globe Daily 1, $550, is made of lightweight aluminum that makes it especially speedy

Companies that have been making women's bikes for a long time have years of in-the-field testing under their belt. That means they've engineered a bike that can go fast and be responsive to maneuvering with a woman's unique weight distribution and size in mind. Additional gender-specific features include a narrower bar and a woman's saddle. Trek has been making women's road bikes since 1999 and it shows in their Madone 4.6 WSD, $2,630

While a road bike is meant to go faster than a city model, comfort during long rides is paramount to ensure you'll be a regular rider. That means, you might have to go a little heavier, but you won't noticed the weight if you also select a well-designed, aerodynamic road bike. In addition to the slight heft, a successful women's model has features that make the frame cut through the air. Scott Contessa Foil, $3,400, is 16.2 pounds and has a sleek profile based on the "aerodynamic Kamm-tail design," according to the Bicycling Magazine review.

A bike that can handle the road, but also feel comfortable for slower touring will mean you'll get more bang for your buck. You can go for long rides with friends -- and use the same model for a more relaxed family tour later. The Jamis Ventura Comp, $975, is a good first timer road bike.

Look for a bike that has a sturdy frame with structural features like double-pass welds that make the bike more likely to survive a crash -- and make it through all of the tough rides you'll be taking it on. The Cannondale CAAD8 6 Tiagra, $1,220, has a taller frame, making it easier to cruise than more race-oriented road bikes.

Time trial bike races, including the biking events during triathlons, often require bicycles that have been approved by the International Cycling Union, what is colloquially known as "UCI legal." Contact your race's organizers to make sure a bike you're considering meets all the requirements. The Orbea Ordu SLE, $3,000 meets UCI regulations, making it a good choice for triathletes and racers.

The bike race component of a triathalon could inspire a newcomer to go all out with a racing bike -- possibly the most expensive model type, on average. Before you spend $15,000 for one leg of a sporting event you aren't sure about yet, consider some other options. At $2,200, the Giant Trinity Composite 2 bike is cheaper than the company's high end models (including their $13,500 racer!), with much of the same engineering.