 Add Samsung to the list of those in the tech world unimpressed by the new iPad.
Samsung responded to the unveiling of Apple's latest tablet -- which the Cupertino company showed off in a typically well-hyped media event in San Francisco on Wednesday -- with an email to the press, sharing a grid that compares the content creation and multitasking capabilities of Samsung's new ten-inch Galaxy Note 10.1 tablet with Apple's new ten-inch tablet, the iPad.
Here's the grid: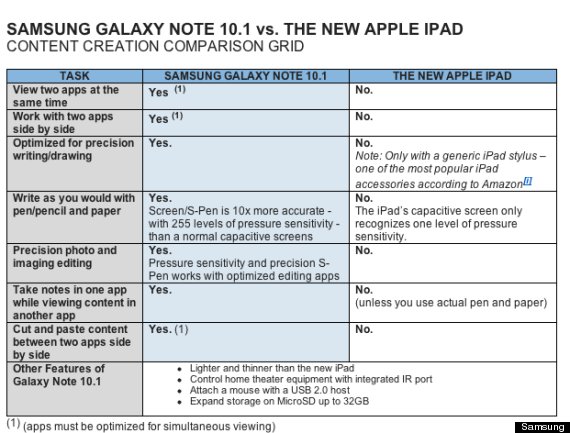 Samsung introduced its Galaxy Note 10.1 -- a larger, tablet-version of its 5.3-inch Galaxy Note half-phone, half-tablet "phablet," complete with S-Pen stylus -- at the Mobile World Congress in Barcelona in February. Festival-goers were impressed with the 10-inch Note's sensitivity, with Cnet's Jessica Dolcourt writing that the larger Note "has the potential to offer a true tablet experience that goes beyond the usual."
The Galaxy Note 10.1 does offer tangible benefits over the new iPad: Samsung's tablet is indeed lighter and thinner than Apple's, if just barely: The Galaxy Note weighs 1.29 pounds against the new iPad's 1.44 pounds, and is 8.9mm thick versus 9.4mm thickness for the new iPad. The Note also allows the user to view and work on two apps at the same time, stacking them side-by-side (PC users should get used to this idea: This functionality is at the core of the upcoming, re-imagined Windows 8 desktop operating system).
As for the holistic claim that the Galaxy Note 10.1 is better for content creation than the iPad: Apple did not immediately respond to request for comment, though execs did demonstrate several content creation apps at the event in San Francisco. GarageBand, Apple's music editing application, made its way to the iPad in March 2011 and received a robust update and demonstration; ditto with iMovie for iPad, the movie editing application that now has a template to create Hollywood-style "trailers." Perhaps the most significant content creation news to come out of San Francisco was that iPhoto, Apple's popular photo editing suite for Mac, is now available on the iPad and optimized for touch-and-swipe-based image manipulation. (Early reviews are mixed: MG Siegler of TechCrunch called it "the way non-professional photo editing should absolutely be done"; Gizmodo's Sam Biddle was less enthused, deeming it "confusing, superfluous, and a little dumb.")
Given its email blast, it appears that Samsung would agree Biddle's sentiment, if not his exact wording. Samsung has not been shy in its attacks on Apple: As the two have battled for smartphone sales supremacy in the United States, Samsung launched a series of ads mocking the iPhone 4S and Apple fanboys waiting in line for the newest devices. The series culminated with a 90-second spot, aired during the Super Bowl, for Samsung's Galaxy Note smartphone-tablet hybrid (phablet, for short). The lengthy commercial featured Apple fanatics breaking out of the line and embracing their Samsung side. An earlier advertisement in the series featured a memorable catchphrase for Apple users who realize their devices are inferior to Galaxy phones: "Aww, we just got Samsunged!"
In some sense, Apple just got some "Samsunged" again, with its rival lashing out publicly and noting the things that its Cupertino competitor can't do. For a complete comparison of the specs and capabilities of the iPad versus the Galaxy Note 10.1, click this link to see a grid from FindTheBest.
Check out the slideshow (below) to see the 11 most important things you need to know about the new iPad.
11 Things You Need To Know About The New iPad
The photo above shows the difference between the iPad 2's 1,024 x 768 pixel display and the new iPad's high-definition Retina display, which has double the resolution and four times the pixels (2,048 x 1,536 pixels). Apple has described a Retina display as "pixel density is so high your eye is unable to distinguish individual pixels." And how does it stack up to other tablet displays? GDGT's Ryan Block said of his first hands-on with the new device: "It's the best display I've ever seen. Anywhere, period."

Apple's March 7 event marked a first for Apple, the arrival of 4G LTE connectivity on a mobile device. Purchased with a two-year contract from either AT&T or Verizon, a 4G iPad will, according to The Wall Street Journal, "allow users to connect a[t] speeds roughly 10 times faster than current 3G data networks." 4G models will also "work on any 3G network," per GigaOm. New iPad models equipped with this unique feature, however, will cost users slightly more than models without 4G. (More on this later.)

The new iPad may look pretty similar to the old one, but it's packing some serious hardware upgrades within its thin frame. These include a faster processor, the "quad-core" 1GHz Apple A5X, which Apple claims to offer twice the processing power of the A5 CPU (found in the iPad2) and four times the graphics-rendering power of the Tegra 3 processor found in many Android tablets, per Wired's live blog of the event. Gizmodo argues that Apple has also probably upped the device's RAM, "if only to handle the new resolution."

The new iPad did not get Apple standout iPhone 4S feature, the voice-activated virtual personal assistant, Siri. What it did get was Voice Dictation, which will be a blessing for anyone who has ever tried to type on the iPad's tricky virtual keyboard. To use the handy new feature, just tap the microphone icon on the keyboard and start talking. Current languages supported by dictation include U.S., U.K. and Australian English as well as Japanese, French and German.

While the new iPad offers quite a bit more than the iPad 2 in terms of display, hardware, and connectivity, the outside remains almost identical to its predecessor, measuring 9.5 x 7.31 inches. As expected, the biggest difference between the updated Apple tablet and its predecessor is its thickness...

Compared to the .34 inch iPad 2, the new iPad measures .37 inches deep, according to Apple's website. In addition, the new iPad has .11 pounds on the iPad 2, weighing in at 1.44 lbs. The 4G version of the new iPad is even heavier, weighing in at a whopping 1.46 lbs.

The new iPad boasts 5-megapixel rear-facing iSight camera that shoots 1,080p HD video. The iPad 2's rear camera was only .7-megapixels and recorded video in a paltry 720p. iPhoto, Apple's photo-editing software, is now available for the iPad. The app can be used for editing, effects, beaming photos between devices and sending finished products to iCloud or social networking accounts. The app also lets users create photo journals, digital scrapbooks into which users can insert maps, notes and weather widgets. The new iPhoto app costs $4.99 and is available today.

The 4G version of the new iPad also comes with a feature called Personal Hotspot, which "can be used to share the fast network connection on your iPad with up to 5 other devices using Wi-Fi, Bluetooth or USB," according to an Apple press release. Currently, this feature is available only for Verizon customers.

Even though the new features like Retina Display and 4G connectivity will be consuming a lot more juice, a larger, more powerful battery will keep the new tablet charged for the same amount of time as the previous model. Phil Schiller, Apple's senior vice president of Worldwide Marketing, had the following to say about the battery during Apple's Wednesday event (per GDGT): "You may recall we claim 10 hours of battery life, and 9 hours on 3G. The new iPad delivers the same 10 hours of battery life, and 4G is 9 hours."

The WiFi-only iPad starts at $499 for the 16GB then jumps to $599 for the 32GB and $699 for the 64GB. The 4G version starts at $629 for 16GB and tops out at $829 for the 64GB version. The iPad is available for pre-order now and will begin shipping on March 16. [CORRECTION: An earlier version of this slideshow incorrectly listed the pricing of the WiFi-only iPad.]

Along with Apple's announcement of the new iPad came a league of updated apps that will put the device's Retina Display to good use. According to Engadget, all of the stock apps have been updated, optimized, and scaled up so text will automatically be rendered in high resolution. In addition to uniform updates, several native Apple apps also received new features. Garage Band, for example, will now allow you to save creations to and easily share them through iCloud. Also, according to MacWorld, users will now be able to add an automatic string orchestra to their creations through the Smart Strings feature and fine-tune their recordings with Garage Band's Note Editor. Apple's updated iMovie app will feature more advanced editing tools and will enable sharing of videos in 1080p resolution to YouTube, Facebook, Vimeo, and Apple TV, The Verge reported. The new iMovie will also let users cut trailers while recording video, take advantage of nine different genre templates, and incorporate custom soundtracks from famous composers. In addition to its own apps, Apple also introduced a new generation of apps made specifically with the new iPad's higher resolution and enhanced hardware capabilities in mind. According to Engadget, these apps came courtesy of third-party developers like game-maker Namco, which previewed its jet combat simulator SkyGamblers, and Epic Games, the developer behind popular role-playing sword-fighting game Infinity Blade and creator of the new Retina display-optimized Infinity Blade: Dungeons. In addition, 3-D design software manufacturer Autodesk showed off its Sketchbook app, which allows for a whole new level of sketch detail thanks to the new iPad's improved display.