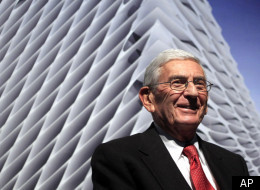 With the release of Forbes' annual billionaires list comes another round of Better Know A Billionaire -- LA edition.
Most of these men's fortunes are self-made, and one built a corporate empire with a modest loan from his in-laws. Some are high school and college dropouts, one started out in America as a janitor, and one of them is a diehard Lakers fan.
In total, their net worths clock in at a staggering $42.7 billion dollars, so start memorizing their names and faces for the next time your daughters are selling Girl Scout cookies.
How she made her money: Her father, B. Wayne Hughes, founded Public Storage. Forbes notes that Tamara Gustavson first appeared on the list last year, when her father started disbursing his assets to his heirs. She served as the Vice President of Administration at the company from 1978 to 2003. In the news for: In 2011, Gustavson attended the groundbreaking of USC's multimillion dollar John McKay Center for the college's football team. Civic Engagement: Gustavson is active with the the HollyRod Foundation, an organization founded by former NFL quarterback Rodney Peete and his wife, actress Holly Robinson Peete to help people with autism, Parkinson's disease. She also served on the board of directors of the USC-CHLA Institute for Pediatric Clinical Research from 2004-2008. Fun fact: The USC alum was elected to the USC Board of Trustees in 2010.

How he made his money: Saban is most famous for bringing the Mighty Morphin Power Rangers to the United States. Along with Rupert Murdoch, he then used his earnings to acquire the Fox Kids Cable Network and eventually sell it to Disney for $5.3 billion. In the news for: Saban is known for his staunch support of Israel, and he has been accused of using his media companies to spread neoconservative views. His Spanish-language television network, Univision, recently broadcast a report claiming that Iran is using Latin America as a base for terror plots against the US. Civic Engagement: Besides being a record-setting donor to the Democratic party, Saban and his wife Cheryl have also donated millions to Children's Hospital Los Angeles. Fun fact: Saban owns the rights to thousands of children's television theme songs, including "Inspector Gadget," "X-Men," and "He-Man and the Masters of the Universe."

How he made his money: Arguably the most successful director in Hollywood history, Spielberg made his fortune with big hits like "E.T.: The Extra-Terrestrial," the Indiana Jones series, and "Jurassic Park." He's continued to build on that fortune in his role as DreamWorks studio head, producing major franchises like "Transformers." In the news for: Spielberg has been making a big push into television, but his expensive Fox dinosaur show "Terra Nova" was just cancelled after its first season. Civic Engagement: With the profits from his film "Schindler's List," Spielberg established the Righteous Persons Foundation to strengthen Jewish identity in the US. He has also supported causes like (RED) and the Bush Clinton Katrina Fund. Fun fact: In the 1970s, Spielberg made a bet with his good friend George Lucas to swap 2.5% of the profits on their upcoming films. Spielberg's film was "Close Encounters of the Third Kind;" Lucas's film was "Star Wars." Needless to say, Spielberg came out on top in the bet, even though he lost.

How he made his money: After serving as a pilot in World War II, he founded Trans International Airlines and later sold it for millions in profit. In the 60s, he began to acquire and build casinos and hotels in Las Vegas. He's now known as a casino mogul, despite also profiting from investments in other industries. In the news for: In 2010, Kerkorian was ordered by a court to pay more than $10 million in back child support and an additional $100,000 every month for a child that isn't biologically his. Her mother had faked a DNA test to defraud Kerkorian, and the biological father turned out to be Hollywood producer Stephen Bing. Civic Engagement: His organization, Lincy Foundation, is named after daughters Linda and Tracy. It supports entrepreneurship in Armenia and cancer treatment centers in Las Vegas, notes Businessweek. Fun fact: Born in Fresno, California to Armenian immigrants, Kerkorian dropped out of school in eighth grade to become a professional boxer. During World War II, he learned how to fly planes and served under the British Royal Air Force.

How he made his money: While he was still a college student at UCLA, he brokered his first airplane deal between two airlines, reports USA Today. It was the start of a successful airplane leasing business that would revolutionize the aircraft industry. In the news for: In 2010, six months after retiring from Century City's International Lease Finance Corp., a company he founded, he announced a new airplane leasing company with the purchase of 51 airbus liners, reports the Los Angeles Times. At the time, it was estimated that the deal was worth $4.4 billion. Civic Engagement: In 1990, he donated $60 million to the Smithsonian to create a hangar to showcase airplanes and spacecraft near the Dulles Airport called the Steven Udvar-Hazy Air and Space Museum. He later increased that gift to make the total $65 million. Fun fact: During college, Udvar-Hazy was getting his airplane consulting firm off the ground while also holding down two life-guard jobs.

How he made his money: The couple owns one of the largest fast-fashion chains around the globe, Forever 21. Their two daughters, Linda and Esther Chang, help run the company. In the news for: The company has been marred with criticisms about their factory conditions and accused of stealing clothing designs. Civic Engagement: Because the Changs are born-again Christians, "John 3:16" is printed on the bottom of every Forever 21 shopping bag. Do Won Chang also founded Chang 21 Foundation, which gives money to faith and missionary groups, notes the Los Angeles Times. Fun fact: Another inspiring fact. The power-couple founders have humble origins. Forbes notes that husband Do Won held down three jobs when the couple first came to LA from Korea: as a janitor, gas station attendant and coffee shop worker. Do Won Chang never went to college, and he was able to send both of his daughters to Ivy League schools.

How he made his money: Along with his brothers Manuel and Placido, Jeronimo creates discount supermarket chains that he was later able to sell to Wal-Mart, according to Forbes. Arango's family is the reason that Wal-Mart, known as Wal-Mex, came to Mexico. In the news for: Arango's Acapulco home, known as "Malbrisa," was designed by John Lautner in 1973. It has a "sky moat" and a massive poured concrete shade. Check out gorgeous photos here. Civic Engagement: He founded the Mexican Center for Philanthropy in 1989. In a 2004 interview, he said it was because "more needed to be done to promote this culture of getting involved and giving some of your time, talent and money for the benefit of the common good - a culture of participation and generosity." One of its focuses is corporate social responsibility. Fun fact: Arango was born in Spain and studied art and literature in the United States. However, he never completed his college degree. A citizen of Mexico, Arango now lives in Los Angeles. Photo by Flickr: Zol87

How he made his money: Redstone is the former CEO of Viacom, a media network whose channels include MTV, Nickelodeon, BET and Comedy Central. In the news for: Now the executive chairman of the Viacom board, Redstone recently made waves with his wavering decision to attend the yearly shareholder's meeting this week. Civic Engagement: In 2007, Redstone committed $105 million in grants to three hospitals across the nation; one of them was the Cedars-Sinai Prostate Cancer Center in Los Angeles. In 2010, he gave $24 million to USC's Keck school of medicine. Fun fact: At the end of March, Redstone will receive his own star on the Hollywood Boulevard walk of fame, joining the ranks of other media moguls like Ted Turner, Michael Eisner, Louis B. Mayer and Darryl Zanuck, notes the Los Angeles Times.

How he made his money: Working his way up from the mailroom in William Morris, Geffen founded two massively successful record labels and eventually became a founding investor in Steven Spielberg's DreamWorks Studios. In the news for: Geffen helped finance the legal team that took on Prop 8 (and won) in Federal court. Civic Engagement: The David Geffen Foundation gives money to HIV/AIDS, Civil Rights/Civil Liberties, Jewish Issues and the arts. Fun fact: Because William Morris only hired college graduates, Geffen lied on his application and pretended he'd attended UCLA. When the company then checked with the UCLA registrar, Geffen simply intercepted the letter in the mailroom and replaced it with a fake.

How he made his money: Broad co-founded Kaufman & Broad, which become one of the country's biggest home builders, notes Forbes. He later bought Sun Life Insurance and sold it to AIG for billions. In the news for: attending a recent Los Angeles reading of "8," a pro-gay marriage play. The performance feature George Clooney, Brad Pitt and Jamie Lee Curtis, to name a few. After the show, the 78-year-old man told the Los Angeles Times, "I'm here so that means I support what they're doing." Civic Engagement: Broad is currently constructing The Broad, an art museum located on Bunker Hill in Downtown LA. He's the city's biggest art patron, having also underwritten the Disney Concert Hall and the Broad Contemporary Art at LACMA. Fun fact: In 2011, Broad's foundation received $52 million from LA's Community Redevelopment Agency to build a parking lot for the Downtown LA museum. Governor Jerry Brown later closed CRAs across the state because he claimed California could no longer afford them. Instead, Brown argued, money should be directly spent on services like education and public safety.

How he made his money: His innovations as a young surgeon led him to leave the practicing medical field and found his own research company. He developed and patented cancer-fighting treatments, and created and sold two huge multi-billion dollar pharmaceutical companies. In the news for: Being a potential bidder for ownership of the Los Angeles Dodgers. He already owns part of the Los Angeles Lakers and is a 25-year season ticket holder. Civic Engagement: Soon-Shiong donated $35 million to help build a new research facility at St. John's Health Center in Santa Monica in 2007, and they've given another $100 million since, notes the Arizona Alumni association. He has also guaranteed $100 million to help reopen LA County's MLK Jr. Hospital. Fun fact: Not fun, but inspiring. Soon-Shiong was born in South Africa to Chinese immigrant parents who left their country during World War II. According to this 2003 story from Forbes, he was the first non-white surgical resident at Johannesburg's General Hospital on staff and earned half the salary his white peers did. His first patient, a white South African man, initially refused to be treated by Soon-Shiong.