Mayim Bialik's Book, 'Beyond The Sling', On Attachment Parenting Is In Center Of Parenting Spotlight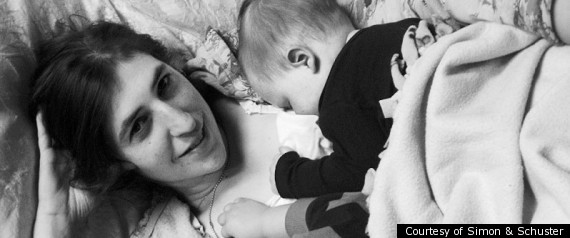 Mayim Bialik, most commonly known as "Blossom" from the hit 90s sitcom, or more recently for her role in "The Big Bang Theory", has been in the spotlight for another reason -- her new book, "Beyond the Sling: A Real-Life Guide to Raising Confident, Loving Children the Attachment Parenting Way" is making waves. The actress, who also has a PhD in neuroscience, supports "attachment parenting" and chronicles what it's been like raising her two sons.
In the book, Bialik explains her idea of good parenting -- that mothers and fathers instinctively hold all of necessary tools to parent, and that following a child's natural rhythms is key. She told the LA times that essentially, the attachment method is:
"The notion that natural birth means something to the mother and the child. Breast-feeding is the natural, optimal way to feed a child. Sleeping with your child, wearing your child in a sling as opposed to pushing them around in expensive strollers, those are things that matter biologically and sociologically for the structure of a family."
Good Morning America deemed her method "the ultimate hug it out style of parenting" while highlighting some questionable tactics -- Bialik doesn't use diapers or formula and she won't hire a nanny or go on "date nights" with her husband.
Here on The Huffington Post's new debate platform, Change My Mind, Bialik defends the most controversial decision she's made: to co-sleep with her children.
DEBATE: IS IT OK TO CO-SLEEP WITH YOUR CHILDREN? YOU DECIDE.





Mayim Bialik's guide to what babies do and don't need from 'Beyond the Sling'
Loading Slideshow
Baby Needs a Smooth Entrance: Birth

"Many women feel the following way about natural birth: "I'm going to give it a shot, but if I <em>really</em> can't stand it, I'm going to the drugs; that's what they're there for." It's a staggering disservice to women to be told to "try" having a natural birth but be given insufficient resources, education, and support to make it happen. Natural birth is not something you <em>try</em>; it's something you learn about, prepare for, and succeed by completing it."

Baby Needs Milk: Why We Breastfeed

"Breastfeeding takes getting used to, not only because it involves fluid leaving your body (sometimes at angles not predicted by Newtonian physics) but also because it is more than just a way to feed your baby. It is a lifestyle and a philosophy, and I believe that understanding it as such will allow you to make the most educated decision about breastfeeding."

Baby Needs To Be Held: How Will You Ever Get Anything Done Ever Again?

"Babies need contact with us and with our bodies. We smell familiar, we sound good, and we feel right. They want to be held close <em>to</em> us, not simply <em>next to</em> us."

Baby Needs Nighttime Parenting: Gentle Techniques and Co-sleeping

"I have never owned a crib. Or a bassinet. We have one bedroom in our house. There are two mattresses in that bedroom. They are next to each other. One is a king-size. One is a full. We all sleep together. In one big bed."

Baby Needs Potty: Elimination Communication

"How did I avoid potty-training either of my boys? Easy! Babies are <em>born </em>potty-trained; it's the parents who need the training!"

Baby Doesn't Need All That Stuff: Figuring Out the Essentials

"It is my belief -- and many parents interested in a more natural parenting style agree -- that we intuitively know how to play with our babies in their first year. In fact, you probably already posses almost everything a baby needs in that first year."

Baby Doesn't Need Unneccesary Medical Intervention: When (and When Not) to Call The Doctor

"I have used acetaminophen (found in Tylenol) maybe six times in six years. I have never given my children ibuprofen (found in Motrin and Advil). I have never administered any medication for teething pain, nor have I ever used antibiotic ointment (found in Neosporin), antihistamines (such as Benedryl), cough syrups, or steroids (as in cortisone creams)."

Baby Doesn't Need Pressure: Letting Kids Be Kids

"The distinction between encouragement and pressure is not always clear. It is certainly implicitly clear that children should be encouraged not to say to Great-Aunt-Pearl, "You smell like rotten flowers and it makes me want to throw up." But is it necessary that we insist and enforce that young children use "please" and "thank you" all of the time?

Baby Doesn't Need Punishment: Understanding Gentle Discipline

"A common misperception about gentle discipline is that it encourages and allows children to do whatever they want; that they will rule the house and become spoiled and dictatorial tyrants who held us hostage with their every whim."