Who doesn't love a Bill Murray story?
We're not talking about "Caddyshack" here. We're talking about the man, the myth and the legends that form whenever Bill Murray graces the real world with his presence.
As you might have heard, there's an entire website devoted to the former Ghostbuster's encounters with regular folk and the hilarious things he says and does to them with the notion that "No one will ever believe you."
Some of the greatest Bill Murray stories have come out of Austin, TX's South By Southwest festival, where Team HuffPost Comedy happens to be right now. So, we're doing the only natural thing and starting an official Bill Murray Watch for SXSW 2012, complete with live updates. Because why not?
If you catch sight of Bill Murray in Austin, hear about him crashing a party or have an encounter with him yourself (we'll believe you) let us know by dropping us an email or tweeting at us and we'll feature your story in our coverage.
In the meantime, we'll be on the watch for him down here in Texas and sharing every Bill Murray story we hear along the way.
Awesome "Murray Watch" graphic courtesy of Corey Pandolph
So, about last night...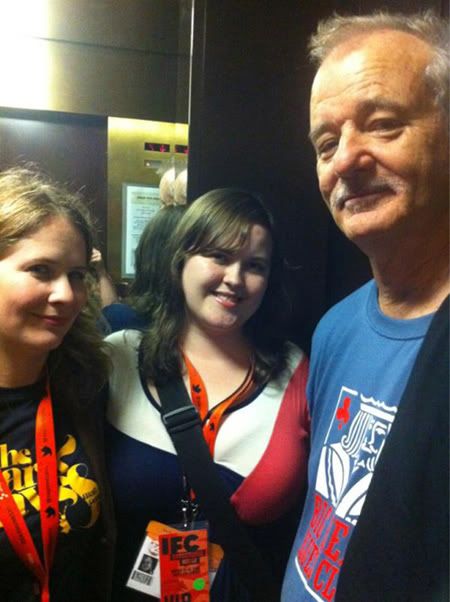 We were hanging out at Esther's Follies watching the last stand-up showcase of the night, when around midnight we started checking to see if there were any new tweets using our #MurrayWatch hashtag. What we saw nearly knocked us on the floor. Not only was Bill Murray sighted at The Third Man Records show featuring Jack White, but it was all going down RIGHT across the street from Esther's.
We ran outside to see a huge crowd swarming the venue. As we waited outside some yellow tape seperating us from the at-capacity show, we saw more reports coming in from Twitter that made us insanely jealous:
No secret guests but a blistering set and Bill Murray singing loudly while standing on top of the bar? Well done Jack White. #SXSW

— Twitter Music (@TwitterMusic) March 17, 2012
We knew this was our chance. We waited for an opportunity, then sprinted inside the venue as soon as White finished his set.
And there he was.
Standing near the bar, Murray seemed calm as as people frantically snapped photos of him and tried to get his attention. We finally broke through and were able to shake his hand and say hello, but not take a picture. I had a Murray Watch flyer in my bag. At the risk of coming off like a total stalker, I took one out and asked if he had seen them around town. He threw his head back and laughed.
Interested to see what he would do next, we trailed behind as he left through the back door of the venue, along with a dozen other SXSW revelers whisper-yelling things like, "Is that him?" and "HOLY $#*! THAT'S BILL MURRAY." Soon, Murray and his entourage were leading a small parade through downtown Austin, once stopping to take a picture with Austin's finest.
We ended up at the Hilton, where Murray, his assistants and a few lucky HuffPost Comedy editors piled into an elevator and headed to the 18th floor. At one point, he looked at me and asked what I was doing there, adding that I didn't seem trustworthy. I assured him that we were as we exited the elevator to see folk music trio The Spring Standards finishing their set. Murray asked if they could play just one more song. To the delight of the crowd and the chagrin of the Hilton employees, they obliged.
James Cleare, one member of The Spring Standards, emailed us about his band's encounter and sent in a picture. He wrote: "Murray was super complimentary and appeared to really enjoy the music. After taking some pictures and exchanging some funny anecdotes, he split for his final resting place. What a man, what a myth, what a legend!"
After the song, we got into the elevator with Murray and company once again. There, he was nice enough to let us snap the photo with him at the top of this post -- and thank goodness he did.
Otherwise, no one would ever believe this.