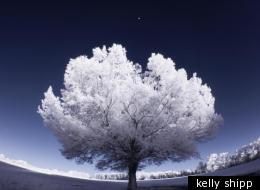 Amidst the cowboy hats and Bill Murray-hunting at Austin's South By Southwest festival, there's also the whole festival thing to get in on, with its techie talks, endless concerts, and surprisingly healthy film roster. One of the offerings this year is the difficult to type "Project Imagin8ion," Ron Howard's Canon-sponsored social experiment, in which people were asked to submit photographs that then became fodder for a movie plot. Produced by Howard, and directed by his daughter Bryce Dallas, the resulting 32 minute-long movie, titled "When You Find Me," toggles between the past and present in what Ron Howard describes as a world of magical realism. You can check out the 10 winning photographs chosen by Howard and Canon from a pool of nearly 100,000 submissions below, and watch "When You Find Me" from now until noon on March 19 on YouTube.
Cockpit of an abandoned plane. Photographed by 30-year-old Walter Arnold, from Hendersonville, NC.

Photographed by 38-year-old Jen Berry, from Los Angeles, Calif.

Photographed by 21-year-old Mikey L'Heureux, from Tarzana, Calif.

Two girls run away from the unknown in the early morning fog. Photographed by 24-year-old Brooke Shaden, from Canoga Park, Calif.

A girl dreams of living in a world she controls, and she just might get it. Photographed by 20-year-old Alan Michael Martelly, from Peachtree City, Ga.

Photographed by 26-year-old Lexia Frank, from Wesley Chapel, Fla.

Photographed by 40-year-old Chris Wehner, from Broken Arrow, Okla.

Photographed by 44-year-old Kelly Shipp, from Conway, Ark.
Photos courtesy of Canon