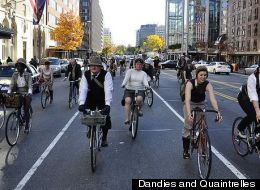 WASHINGTON -- It's probably safe to say that the worst of winter, which wasn't much of a winter at all, is behind us. As temperatures rise, make sure to spend sometime outdoors -- starting with this weekend.
Enjoy the warmer weather by watching a Strongman challenge, D.C. United's home opener or a fashionably hip bike ride along the Potomac.
Or, if your allergies are acting up, stay inside and try out for "America's Next Top Model," enjoy a steaming bowl of pho or watch some journalists rock out. This and more in our weekend guide.
Vietnamese pop-up "Pho U" debuted yesterday after being derailed a few weeks ago following the tragic death of its chef, Toki Underground's Thang Le. But, Marvin chefs James Claudio and Brendan L'Etoile are picking up the torch and trying to lighten the mood with a menu featuring items like crispy pork and shrimp spring rolls, garlic chicken, char-grilled pork with vermicelli and beef noodle soup. All proceeds will go to Le's family. The event runs from 7 p.m. to 1 a.m. tonight and tomorrow. 2016 9th St. NW. Photo by Flickr user Joshua Rappeneker

The Hamilton is turning the tables on several D.C.-area journos tonight with Journopalooza Battle of the Bands, which puts the spotlight on bands with writers from publications like Reuters, McClatchy, The Washington Post, ABC, CNN, and more. Of course, the editors at HuffPost DC are in no way offended that they weren't asked to be in anyone's band. Not offended at all. Tickets are $20 in advance and $30 at the door, with all proceeds going to charity. Doors open at 7 p.m., 600 14th St. NW.

Think you have what it takes to make it as a top model? Tyra's minions from America's Next Top Model will be in Pentagon City today scouting leggy hopefuls. This season is apparently the "college edition," and casting directors are accordingly looking for gals who are continuing their education. If that sounds like you, you're over 5'7" and between the ages of 18 and 27, head over to the Fashion Centre at Pentagon City between 10 a.m. and 3 p.m. Make sure to bring this filled-out application and a photo ID. Plus, better be safe and read over the other rules to make sure you're eligible. 1100 South Hayes St., Arlington, Va.

If you like to watch unnaturally muscle-y people carrying heavy things, then you'll probably want to check out today's Capital Classic Strongman Challenge. The event, now in its second year, will feature He-Man-esque challenges with names like 'Viking Press,' 'Carry for Distance,' 'Frame Carry' and 'Atlas Stones.' Read more about the event here. Registration to compete is now closed, but you can watch on the sidelines for $5. 11 a.m. to 4 p.m. 607 South Ball St., Arlington, Va.

RFK Stadium hosts D.C. United's home opener tonight against the Sporting Kansas City. And wouldn't you know it, the first 10,000 fans get free combo schedule ad car magnets. Yippee! But seriously, if you're a soccer fan go out and support the team. Tickets range from $23 to $52.00. The game starts at 7:30 p.m., 2400 East Capitol St. NE.

More than 500 people are expected to show up to today's Dandies & Quaintrelles River Ride, brought to you by the same people behind the Tweed Ride and Seersucker Social. Sunday's event is a nine-mile ride along the Potomac River to Crystal City's new Diamond Derby event. Attire should be "urban -- functional, contemporary and edgy." Grab your bike and show up at 12th Street SW and Jefferson Drive to start. Free. 2 p.m.

Today's your last chance to check out Woolly Mammoth's production of "Civilization (All You Can Eat)," an absurdist satire with overtones of George Orwell's "Animal Farm." The play, which chronicles the paths of six urbanites with serious appetites, was declared by The Washington Post a "well constructed satire, crisply delivered." Tickets range from $40 to $62.50, with shows at 2 and 7 p.m. 641 D St. NW.

The Vienna Boys Choir visits the Center for the Arts Concert Hall at George Mason University tonight. The lauded children's choir, founded more than 500 years ago, has a repertoire ranging from Austrian folk songs and classical masterpieces to modern pop songs. Over the centuries, the choir has worked with iconic composers the likes of Mozart and Bruckner. Franz Schubert was even a member, once upon a time. Tickets range from $23 to $46. 4 p.m., Route 123 and Braddock Road, Fairfax, Va.