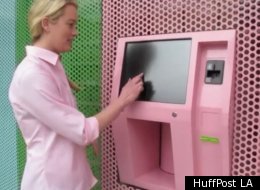 If you've been drooling over the 24-hour cupcake ATM that gourmet bakery Sprinkles recently debuted in Beverly Hills, Chicago, worry not: your moment will come.
More specifically, your moment will come this summer.
Ashley Triestram, manager of the high-end cupcake-makers' Chicago location at 50 E. Walton St., told the Chicago Reader that the California-based bakery chain's planned summer expansion will include at least one on-demand cupcake dispenser in the Windy City.
The vending machine holds 600 cupcakes at a time, and charges $4.00 apiece--50 cents more than an in-store cupcake, according to CBS 6. For some, the "convenience fee" is a small price to pay to avoid the often-long lines that plague the popular bakery.
(See the ATM in action above, courtesy of HuffPost L.A.)