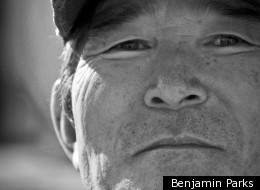 Japan's 2011 earthquake anniversary provides an opportunity to look back at the worst natural disaster of 2011 and the individuals it affected. The Huffington Post worked with Tokyo-based writer Robert Michael Poole and photographer Benjamin Parks to put together a series examining the lives of those who lived through the disaster in Ishinomaki, one of the hardest-hit cities both in terms of the number of lives lost and structural damage.
The people they spoke with -- from a cab driver to a sake store owner -- shared how their lives were changed and how they have set about to rebuild in the years ahead.
MIKUNI FUMITAKA: 68-Years-Old, Retired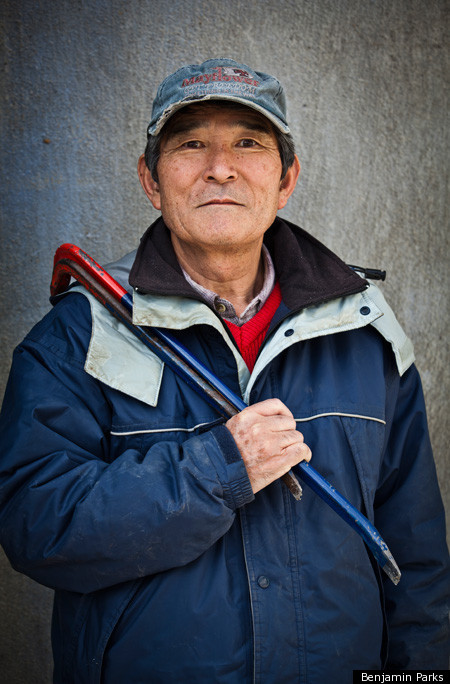 A year after the tsunami, retired 68-year-old Mikuni Fumitaka has lost none of his sprightliness. In fact, like many older locals, he can be found in the thick of the rebuilding effort. We found him chopping wood for a reconstructed bathhouse with all the vigor of a man half his age. CLICK HERE TO READ MIKUNI'S STORY.
TOSHINOBU SATO & YUKI AMANO: 75 And 23-Years-Old, Sake Store Owner & Artist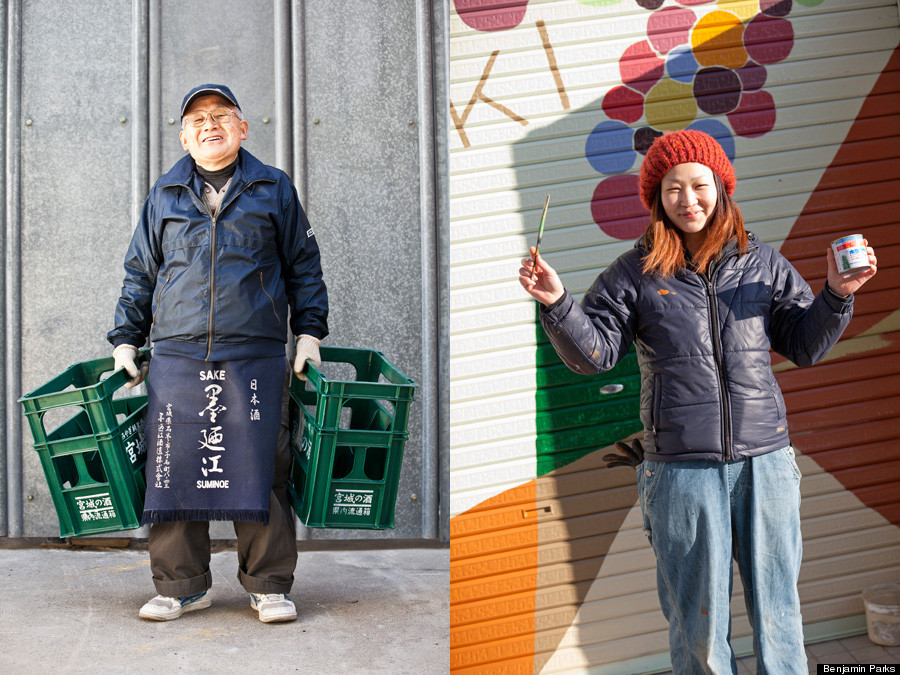 75-year-old Toshinobu Sato's sake store, Kotobukiya, has shown few scars of the damage inflicted on Ishinomaki. Yuki Amano, a 23-year-old hairdresser and artist from Osaka, is bringing back color to the town by painting the walls and entrances of shops in vibrant patterns. Both are embracing the future with a positive spirit, keen to resurrect their businesses and rebuild the community. CLICK HERE TO READ THEIR STORIES.
MORI HEIZABURO: 75-Years-Old, Flower Shop Worker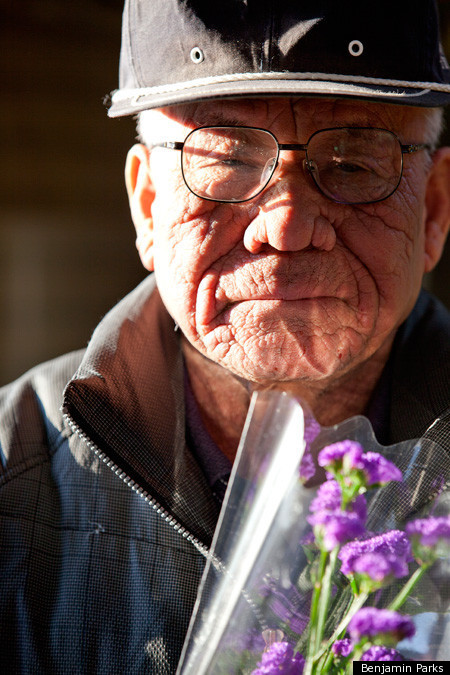 At one of several flower shops in Ishinomaki, funeral-bound white chrysanthemums line the forefront of the store. Behind them stands Mr. Heizaburo, whose smile, weathered by 75 years of coastal living, comes through to warm all those who speak to him. CLICK HERE TO READ MORI'S STORY.
YUICHI KOWATA: 70-Years-Old, Taxi Driver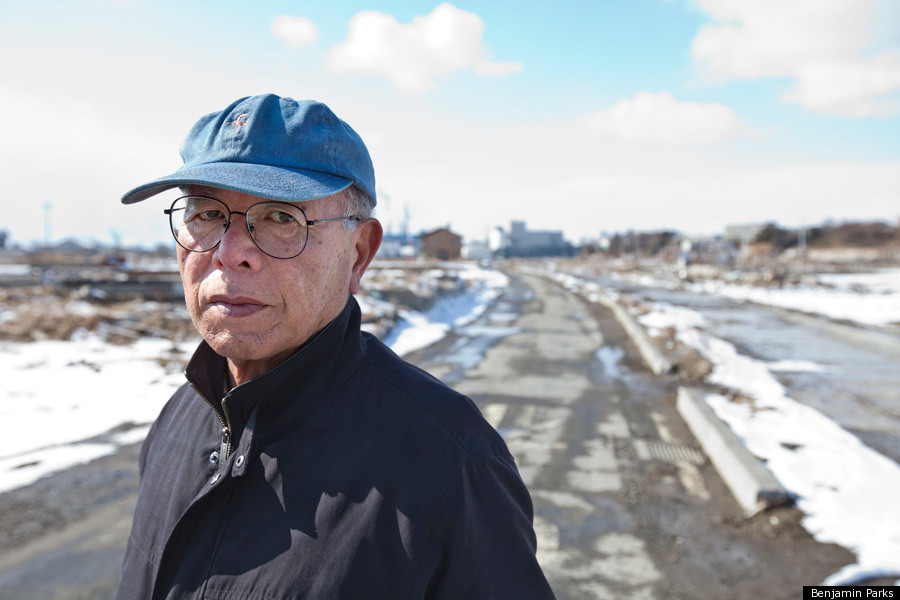 Outside Ishinomaki train station, the taxis line up for visitors and commuters as normal. Here though, like so many of the coastal towns that found themselves in the way of the tsunami, the population is largely elderly and the drivers are often retirees. Mr. Kowata, who knew the town and its inhabitants better than most, bears the weight of the town's losses in his expression. While the camaraderie of the drivers remains strong, the sense of sadness and grief is all too apparent. CLICK HERE TO READ YUICHI'S STORY.
YORIKO MIURA: 65-Years-Old, Art Gallery/Cafe Owner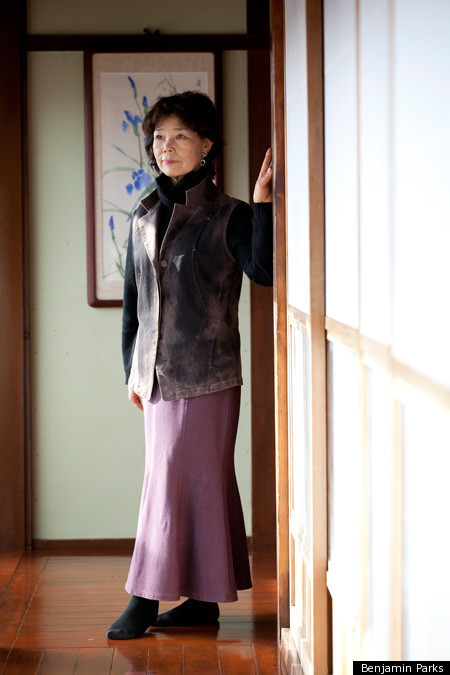 65-year-old art gallery and cafe owner Yoriko Miura runs one of the few hives of social activity for the youth of Ishinomaki. The business displays her own work as well as exhibitions of other locals artists. Ms. Miura's strength and determination are visible as she holds back the tears from the loss of her daughter in the tsunami.CLICK HERE TO READ YORIKO'S STORY.
About the co-author:
Robert Michael Poole is a Tokyo-based writer, editor and entrepreneur whose work has been published by Newsweek, Wall Street Journal, CNN and Associated Press. He focuses primarily on the Asian entertainment scene, as well as lifestyle, travel and international issues affecting the region.
About the photographer:
Benjamin Parks is a Canadian photographer based in Tokyo. He specializes in editorial and corporate portraits as well as product photography and videography. Some of his clients include Eurobiz, Metropolis, In Style, Columbia Law School and Bluetooth Signature magazines as well as Ferrari, DHL and United Colors of Benetton.
More Ishinomaki Survivors Speak:
Age: 76 years old Profession: Clothing shop manager On the Government Response: There wasn't enough planning by the government, but that couldn't be helped, I guess. On What Was Learned: The most important thing is knowing how to get to a high place. Also, not believing such a big tsunami could happen is dangerous - I mean, underestimating the power of nature. On How The Elderly Are Coping: It's been difficult for older people because of the cold, and also because climbing the stairs and other basic things can be tough for them.

Age: 32 years old and 6 years old Profession: Part-time worker/single mother and son On Hope: I just want success for my son, and to be healthy. On What Was Learned: If people come together, regardless of where they are from, they can have a better life.

Age: 54 years old Profession: Music shop worker and piano teacher On Survival: About 15 to 20 of my relatives stayed in my home for two weeks. It's a 7-bedroom house, so it was OK. There was no electricity, water or gasoline for two weeks, but then we got some water from the well. My husband died of shock. I broke a bone in my chest while driving during the tsunami, and was hospitalized. I couldn't move, and my relatives came to help clean up. Nature is strong, but we can feel the warmth of the people, their kindness helps us survive. On Hope: I hope that the city revives, and that young people help in the process. We must all stay positive. On What Was Learned: We should always be prepared for earthquakes, and make ourself stronger - emotionally. Disasters can happen anytime.

Age: 17 years old Profession: Student Where I Was: I was at home, and the water only came into my home once. On Hope: Everyone just wants things to go back to how they were, that's enough, we want to smile with other people like before, and go forward with our lives. On What Was Learned: We must prepare for disasters, and work hard in honor of the dead. Also, preparation for an evacuation route should have been done beforehand.

Age: 68 years old Profession: Retired On Survival: I had a stove, so I felt lucky, but I had to fix it first. Of course, there was no water or electricity. The first thing for survival was the stove, then food - miso soup and food from the fridge. There was no electricity to power the fridge, but that didn't matter, because it was winter. There was no water, but I got some from a well. I'm pretty powerful - the well was ten meters deep, but I could get water. There are many wells in this area, but older people couldn't lift the water, if two people lifted the water it was OK. CLICK HERE TO READ HIS WHOLE STORY.

Age: 75 years old Profession: Flower shop worker Where I Was: When the tsunami happened, I was on the mountain. On The Effect On The City: There are many people who passed away, and the houses have become wreckage. Now we see few people on the street. On The Government Response: They are considering a tax and assistance grant. That's all. CLICK HERE TO READ MORI'S STORY.

Age: 75 years old Profession: Sake store owner Where I Was: I was in my home, and when the tsunami came I rushed to the sixth floor of my house. It was OK because the water only came up to the second level. How I Survived: I got help from the community center, and electricity and water, after three days. There wasn't any water or electricity here, but the community center had some. CLICK HERE TO READ TOSHINOBU'S STORY.

Age: 65 years old Profession: Art gallery/cafe owner When The Tsunami Hit: My daughter died. She had bought a new home, but when the tsunami came, suddenly it fell apart, and she was pulled into a whirlpool of water and washed away. CLICK HERE TO READ YORIKO'S STORY.

Age: 70 years old Profession: Taxi driver On Hope: Maybe in two years I will have to stop [working], because I'm getting older - I'm 70 years old, and just want to be healthy. On The Government Response: They reacted too late. On What Was Learned: Many people have helped - volunteers from abroad, the Japanese military, and many others. We all have to work together. CLICK HERE TO READ YUICHI'S STORY.

Age: 23 Profession: Hairdresser On Hope: My hope is to rebuild the town, so I'm doing what I can, and painting murals. On the Government Response: The government's help is not enough, but I guess that can't be helped, and now there's the nuclear problem to worry about, too. CLICK HERE TO READ MORE ABOUT YUKI. CLICK HERE TO READ MORE ABOUT YUKI

Age: 87 years old Profession: Retired On Survival: There was no food and no water, so for two days we only ate tofu. We shared it and ate it with our hands. For two months there was no elecricity, and no water either, because the water system had broken, but finally we got some water from the school's pool. On How The Elderly Are Coping: At first people were trying their best, but then they got depressed because so many people had died.