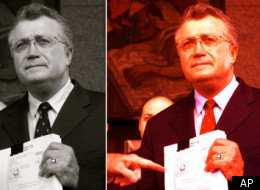 From news headlines like "Carmen 'I am a liar' Trutanich" to "Carmen the Barbarian," LA has clearly taken a disliking to City Attorney Carmen Trutanich. There's even a rumored plane that has been known to fly above downtown with a banner reading: "Nuch is a liar."
So what has he done that is so horrible? We've laid out the man's six biggest mistakes for you below. Each one is accompanied by a video of the one and only so you can judge for yourself.
Maybe it's just the media, potheads, "tagbangers" and dreadlocked protesters who dislike the "Nuch." Or perhaps he's on your black list as well.
BOTTOM LINE: Does every city need a politician to hate? Or does Trutanich deserve his boogie man status?
Trutanich is known for his "I'm not a politician" declarations, for promising "four more years" as LA city attorney and for assuring that he's not using his current office as a stepping stone in his political career. When he reneged on his promise and declared his campaign for district attorney, here's how a Los Angeles Times editorial responded: Under the terms of the pledge he made when running for city attorney three years ago, the ad should have appeared in the paper on Sunday -- but we still don't see it. It should be pretty easy to spot: He said it would have a large photo of him with the words "I AM A LIAR" in large block print. It's been clear for months, ever since Trutanich began compiling a campaign treasury that now exceeds $1 million, that his promise to focus on his job as city attorney and not seek higher office before completing two full terms was a bunch of bunk. He reneged on that commitment, and now his campaign spokesman is essentially making fun of anyone who was sucker enough to have thought he was serious and to try to hold him to his pledge. Full disclosure: video is from Trutanich's chief rival DA candidate, Deputuy District Attorney Alan Jackson.

Trutanich first expressed his stance that "You can't sell marijuana" in Nov., Sherman Oaks Patch reported. When asked if he'd encountered a dispensary that was legal, he answered, "I haven't found one yet." He boasted about the hard line he's taken with dispensaries: "We had 1,000 when I took office. We're down to 400 now." Then, in mid-Jan., as KTLA reported, he called on City Council to "implement a 'gentle ban' on marijuana dispensaries that would forbid businesses from selling the drug, but still allow patients who are seriously ill and their caregivers to cultivate it."

Trutanich has misstepped more than once in response to social activism, gaining himself a reputation as the enemy of political protestors. First, as LA Weekly's Gene Maddaus recounted, Trutanich sought yearlong jail sentences for what he called "professional protestors" in 2010. Then, after Occupy LA was forced from the City Hall lawn, he threatened to sue the activists for recover the city's costs. Maddaus wrote: He also charged 50 demonstrators criminally and offered others lighter sentences if they agreed to sit through a class on the First Amendment. "The goals of Trutanich have stayed the same," says Garrick Ruiz, a protestor charged by the city attorney in 2010, "which is to figure out how he can punish people as strongly as he can for any kind of political activity." In Jan., Trutanich was accused of unjust punishment again when he sought to slap Dream Act activists with year-long jail sentences, CBS reported. In this ABC video, Trutanich said, "Your right to protest ends at the tip of my toes and the tip of my nose." He continued, "It does not give you the absolute freedom to interrupt the lives of the people in L.A."

When Trutanich's campaign for DA sent out a press release proclaiming 725,000 views on its most recent campaign video, the Los Angeles Times became suspicious. The campaign told the Times that it paid a firm for 150,000 to 250,000 views, but when the paper called the firm, the business said it attained 400,000 views for the video. Trutanich campaign strategist John Shallman confirmed to CBS the 150,000 to 250,000 figure. "It was wildly successful -- we were very, very happy with what we did," Shallman said. "We had 727,000 people view our video. Within a few days of people viewing our video we had 2,000 people sign up to volunteer for Carmen Trutanich and donate online." To test out this firm's ability to make a yawner video go viral, the Times paid the company to make a two-minute video of paint drying go viral -- sure enough, 64,000 people have now watched paint drying.

Trutanich champions himself as LA gangs' worst enemy. Unfortunately, he's thrown street artists under the bus in the process. LA Weekly's Gene Maddaus explained the major fail: He added graffiti cases to the gang section's duties, putting experienced gang prosecutors on the trail of street artists. The move coincided with growing appreciation for street art in the mainstream art world. Some street artists were giving up illegal graffiti in favor of gallery shows. A clash was inevitable, and it came last year, during "Art in the Streets," a landmark show at the Museum of Contemporary Art. "I have no problem with legitimate art. ... I have a problem with graffiti," Trutanich said in a documentary about the show. "If somebody in that show has an outstanding warrant, chances are they won't finish the show." In this video, Trutanich and Risk, the street artist, appear on 790 KABC to debate Trutanich's injunction against taggers.

"LA's kids deserve better" are the words of Steve Lopez of the Los Angeles Times Wednesday in his scathing piece criticizing Trutanich for failing to follow through with his other campaign promise: to give $100,000 to LA's Best after school program. Lopez wrote: For those who need a little background, way back in 2008, Trutanich came up with a clever gimmick while running for city attorney against Jack Weiss. He invited Weiss to join him in signing a pledge that the winner of the race would complete a first term as city attorney and run for a second term as well, rather than bolting early to pursue higher political ambitions. Weiss didn't sign the pledge, but Trutanich did, vowing to donate a hundred grand to LA's Best and take out ads calling himself a liar if he broke his promise. And now he's running for district attorney, a year before completing his first term as city attorney.