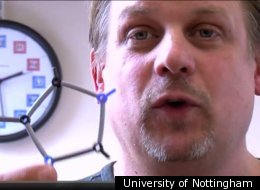 Cola chemistry is changing. Consumers may not notice any difference, but Coca-Cola and Pepsi are adjusting their colas in order to avoid having to label them with a cancer warning.
The change is intended to lower the amount of 4-methylidazole (4-MI), a chemical that's been linked to cancer in animals, Reuters reported. In January the chemical was added to the list of chemicals covered by California's Safe Drinking Water and Toxic Enforcement Act of 1986.
High levels of 4-MI have been linked to cancer in rats and mice.
"We have asked our caramel manufacturers to modify their production process to reduce the amount of 4-MEI in the caramel," Coca-Cola said in a written statement.
The company said it was "not changing the world-famous formula." So just what is changing? It all boils down to a few simple molecules, as explained in this fascinating video by chemists at England's University of Nottingham.