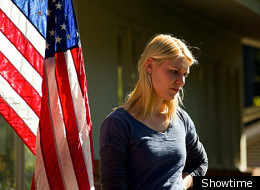 Carrie Mathison will be back (and hopefully, still busting terrorists) when "Homeland" Season 2 premieres on Sun., Sept. 30 at 10 p.m. EST. "Dexter" Season 7 premieres at 9 p.m. EST the same night on Showtime.
According to Showtime, "Homeland" is the network's highest-rated freshman drama series ever. The Golden Globe-winning drama averaged 4.4 million weekly viewers across platforms. On the series, Claire Danes as bi-polar CIA officer Carrie Mathison opposite Damian Lewis as Nicolas Brody, Morena Baccarin and Mandy Patinkin. Production on Season 2 will begin this spring in Israel and North Carolina.
Michael C. Hall will also return to Showtime as Dexter Morgan, the serial killer with a moral code in Season 7 of "Dexter." Jennifer Carpenter, Desmond Harrington, C.S. Lee, Lauren Vélez, David Zayas and James Remar also star in the gory drama. More than 2 million viewers tuned into the "Dexter" Season 6 finale.
Looking for something more immediate to watch on TV? Check out our slideshow for our picks of the week.
What To Watch on TV This Week
"The Bachelor" (8 p.m. EST on ABC) season finale In the sure-to-be-controversial season finale, Ben prepares to make one of the most difficult choices of his life. His search for love is now narrowed down to two very different women -- Courtney and Lindzi -- and he seems to be falling in love with both of them. After being rejected by Ashley on last season's "The Bachelorette," will he now find the love he had hoped to find with her? After having his family meet both women in Zermatt, Switzerland, and under immense pressure, he must make one final decision that could change his life forever.

"Alcatraz" (9 p.m. EST on Fox) Clarence Montgomery (guest star Mahershala Ali), the only innocent man in Alcatraz, returns to present day, but is now committing crimes. Why? You'll have to tune in to find out.

"Smash" (10 p.m. EST on NBC) Ivy faces major problems as her voice begins to fail her. Julia struggles to avoid Michael (guest star Will Chase). Eileen explores her inner hipster at a downtown dive bar with her new pal Ellis (doesn't that sound so horrifying that you have to see it?), while Karen books a side gig at a bar mitzvah on Long Island.

"Cougar Town" (8.30 p.m. EST on ABC) Jules and the gang decide Bobby needs some help romancing Angie (guest star Sarah Chalke) so they launch "operation kiss-the-girl." Meanwhile, other former "Scrubs" cast turn up, as Ted (Sam Lloyd) and the Peons pass through on their way to audition at Disney World. (Though the episode is perfection from start to finish, "Scrubs" fans should make sure they don't miss the closing credits.)

"Ringer" (9 p.m. EST on The CW) Scoff all you want, the series has finally hit its soapy stride. Bridget fears that something has happened to Malcolm when she cannot get in touch with him. In an effort to find him, Bridget visits the hotel where Malcolm was staying and discover on security footage that Andrew was the last person to see Malcolm before he disappeared. Meanwhile, Siobhan admits to Henry the reason she faked her death.

"Fashion Star" (9.30 p.m. EST on NBC) special 90-minute series premiere This unique series is like "Project Runway" meets "X Factor" meets a potential shopping spree, offering viewers a chance to purchase the week's winning designs online and in stores after the show. 14 designers face celebrity mentors Jessica Simpson, Nicole Richie and John Varvatos as they compete for a chance to launch their collections in three of America's largest retailers: Macy's, H&M and Saks Fifth Avenue. In their first challenge, the designers will be asked to design and create their signature items. After an exhilarating trip down the runway, the retailers will make on-the-spot decisions as they vie for the right to purchase and exclusively carry the work of the up-and-coming designers each week. Elle Macpherson hosts.

"Justified" (10 p.m. EST on FX) Raylan pursues a Dixie Mafia soldier who may be the key to taking down Quarles. Ava turns brutal in order to protect an imperiled prostitute. ("Supernatural" and "Deadwood" star Jim Beaver guest-stars.)

"Suburgatory" (8.30 p.m. EST on ABC) When George picks Tessa up late from school she decides to get a job working for Dallas in order to buy her own wheels. Meanwhile Dallas invites her sorority sisters to stay with her in order to celebrate the opening of her store, A Crystal Cup of Crystals; however her rival sorority sister, Tulsa (Robin Givens), decides to crash the party.

"Happy Endings" (9.30 p.m. EST on ABC) So many bad things have happened every time the friends celebrate Penny's birthday, they're wondering if her special day might be cursed. They set out to find a restaurant where they can celebrate, where one of them hasn't been banned or where someone won't run into an ex -- something that's almost impossible.

"South Park" (10 p.m. EST on Comedy Central) season premiere One of the boys had been told time and time again about leaving the toilet seat up after he went to the bathroom, but he didn't listen. His actions have consequences and ultimately result in an unimaginable catastrophe, forcing the TSA to step in to prevent it from happening again.

"Face Off" (10 p.m. EST on SyFy) season finale The three remaining artists compete in the ultimate spotlight challenge to determine who will win the competition.

"Community" (8 p.m. EST on NBC) spring premiere We've escaped the darkest timeline! Andre (guest star Malcolm Jamal Warner) proposes that he and Shirley remarry and a wedding date is set. Britta and Annie get busy planning the wedding and Jeff prepares to give a wedding speech -- while Troy and Abed get ready to be "normal" for the occasion. Meanwhile, Pierce and Shirley pitch a sandwich shop idea to Dean Pelton for the Greendale cafeteria.

"Missing" (8 p.m. EST on ABC) series premiere At 8 years of age, Michael Winstone watched as his father, CIA agent Paul Winstone (Sean Bean), was murdered. Now 10 years later, Paul's wife, Becca (Ashley Judd), is faced with the reality that her son is growing up. When Michael is afforded the opportunity to study abroad, his mother reluctantly agrees it's time to let him go. But just a few weeks into his trip, Michael disappears, and Becca immediately suspects foul play. When she arrives in Rome, she begins piecing together the clues left behind. It isn't long before the kidnappers realize they've picked a fight with the wrong woman, because Becca has a secret of her own -- before Paul's death, she was also a lethal CIA operative.

"Awake" (10 p.m. EST on NBC) Detective Michael Britten's two worlds spin out of control when his son Rex is kidnapped by an escaped convict, Cooper, a man Britten arrested 10 years ago. In his other reality, Hannah is upset that Britten cannot attend an event honoring their deceased son because he is tracking down a missing teenage boy. Clues from both worlds lead to a confrontation that calls Britten's sanity into question.

"Nikita" (8 p.m. EST on The CW) Division is in an uproar as their agents are being assassinated one by one. Amanda realizes Percy is behind the murders and is trying to undermine her authority with the other Division agents. She reluctantly calls Nikita with an offer that is hard to resist -- stop Percy and she'll give Ryan (guest star Noah Bean) back to Nikita.

"Fairly Legal" (9 p.m. EST on USA) season premiere After being fired, Kate returns to work and mediates a case between a corporation and former employee whose granddaughter claims he was exposed to harmful chemicals. Followed by the final season premiere of "In Plain Sight."

"Supernatural" (9 p.m. EST on The CW) After a ballerina is found dead from dancing herself to death, Sam and Dean look into the case and discover the ballet slippers she wore were cursed. When Dean accidentally touches the shoes the power of the curse starts to take hold of him.

"Leprechaun's Revenge" (9 p.m. EST on Syfy) original telefilm If this synopsis doesn't convince you that this is can't-miss TV, I don't know what will: Days before the annual St. Patrick's Day parade, a teenage girl unwittingly unleashes a murderous leprechaun upon the citizens of a small town. The creature goes on a violent rampage, slaughtering descendants of the original settlers who stole its gold. Now the girl and her family have four days to kill the leprechaun -- otherwise she will die from the leprechaun curse. Starring Billy Zane.

"Frozen Planet" (8 p.m. EST on Discovery) two-hour series premiere Narrated by Alec Baldwin, this documentary series will provide the ultimate portrait of our earth's polar regions, where the scale and beauty of the scenery and sheer power of the natural elements are unlike anywhere else on the planet. To capture nature's majestic power -- as well as its ultimate fragility -- the filmmakers utilized the latest cinematographic techniques and technology to capture groundbreaking imagery both above and below the ice in some of the most extreme and remote regions of our planet.

"Once Upon a Time" (8 p.m. EST on ABC) Mary Margaret hires Mr. Gold as her attorney when Emma is forced to arrest her for the suspected murder of David's wife, Kathryn. Meanwhile, back in the fairytale land that was, Prince Charming sets out to stop a determined and unhinged Snow White -- whose memory is still clouded by Rumplestiltskin's potion -- from assassinating the Evil Queen.

"The Walking Dead" (10 p.m. EST on AMC) season finale Rick and Carl return from the woods to find the farm in jeopardy. The group is split up in the ensuing chaos. With things looking grim, Rick's leadership is questioned.