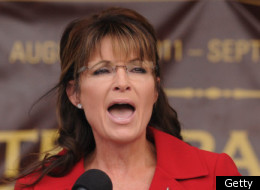 Sarah Palin has dismissed "Game Change" as unimportant, but a top aide says the HBO film about her 2008 vice-presidential bid was "true enough to make me squirm."
Nicolle Wallace, a senior advisor to the campaign, was assigned to work with Palin after she was chosen as John McCain's running mate and later wrote a novel with a mentally-ill character inspired by the former Alaska governor.
"This is a movie about the vast gray area where 99 percent of our politics actually takes place," Wallace told "This Week" on Sunday. "You're just feeling your way though a gray area and doing your best and that campaign was one of those instances for me."
Wallace has previously butted heads with Palin and once described her as bitter, cynical and aggressive.
"I believe that if she were on the cusp of becoming the nominee for the Republican party a whole lot of people... would talk about some of her more troubling deficiencies," she told MSNBC in 2010. "Her incredible cynicism, her bitterness, her aggressive attempts to claw anyone that points out an area for her to work on, I think these things will continue to reveal herself and the people that love her will continue to love her, but the people who are not so sure about her will, I think, formulate harder opinions and more clarity about her."
John McCain also spoke out about the movie on Sunday.
"Of course I'm not going to watch it," he said Fox News Sunday. "Why there continues to be such an assault on a fine and decent person, Sarah Palin ... They continue to disparage and attack her person. I admire and respect her, I'm proud of our campaign and I'm humbled by the fact that I was able to give her [the Republican vice-presidential nomination]."
Below, check out how other politicians have reacted to political movies:
Former Alaska Gov. Sarah Palin (R) said she wouldn't watch her portrayal in "Game Change" by Julianne Moore. "I'm not going to go see the movie, neither is the good Sen. John McCain," she told Fox News. "We've discussed this and realized that Hollywood lies are Hollywood lies. They're going to do what they can to drum up their money and their machine, and their machine happens to be a very pro-leftist, pro-Barack Obama machine there at HBO that created this movie. And those campaign staffers who essentially threw John McCain under the bus, I think that they should feel some shame, and they should feel some embarrassment, because the movie is based on a false narrative, as you can see in the trailer." A number of her former aides, however, saw the film, and posted this response on the Sarah PAC website: Despite HBO's best efforts, we have all seen the movie Game Change. We stand by everything we previously said on the record. The movie is at best "historical fiction" - historical only in that Sarah Palin was nominated and campaigned for the office of Vice President. The movie is a series of scenes where the dialogue, locations and participants are invented or rendered unrecognizable for dramatic effect. HBO and its surrogates continue to argue that they spoke to 25 sources. None of them are on the record nor is their level of involvement in the campaign disclosed. Not one source is on the record in either the book or in the movie and it is clear why. The authors of the book never even traveled on the campaign with Governor Palin. We call on HBO to add the fiction disclaimer.

Sen. John McCain (R-Ariz.) said he won't watch "Game Change," in which he'll be played by Ed Harris. "There's this new movie out," McCain told FOX Radio's Brian Kilmeade. "I won't watch it. I know it's based on a book that is totally unfair and untrue, especially to Sarah Palin. I want to repeat, if I could, my admiration and appreciation for Sarah Palin. She energized our party. I mean, let's have some straight talk - she energized more people than I did. She is a good and decent person and this continuing maligning of her by the liberal left is something that is reprehensible to me." McCain's daughter Meghan won't be watching either. "Oh my Lord have mercy, 'Game Change!'" she said on MSNBC. "Who at HBO got my address and invited me to the premiere of 'Game Change?"

Sarah Palin was more understanding about her portrayal by Tina Fey on "Saturday Night Live." Palin joined her doppelganger on the show as part of a sketch.

Former Florida Secretary of State Katherine Harris lambasted her portrayal by Laura Dern in HBO's "Recount," telling Fox News: Well, you know, it's just the historic facts that are so distorted. And I mean, it's just rather outrageous. ... But then they make up my dialogue. The writer admits to making up scenes in dialogue. And it's kind of outrageous. I was never giddy, and the last thing I like is the spotlight.

President Bill Clinton didn't have much to say publicly about thinly-veiled alter ego Jack Stanton, the lecherous fictional president played by John Travolta in "Primary Colors." But Travolta told reporters that Clinton was "anxious to see the film in private," and that the president asked Travolta to attend the White House Press Corps dinner in costume.

The family of former Prime Minister Margaret Thatcher declined an invitation to see Meryl Streep portray her in "The Iron Lady," objecting to the depiction of Thatcher as suffering from dementia.

Twenty-five top staffers were asked to preview Josh Brolin's performance as President George W. Bush in Oliver Stone's "W." Only one, former Press Secretary Scott McClellan, agreed. "It's hard to sit back and take a look from another perspective," he told ABC News. "It's a tough step to take to come to grips with the fact that things didn't turn out the way we envisioned, and the presidency veered off course. It's tough to accept that when you were part of them." Brolin says that Bush himself enjoyed the film.

Former Prime Minister Tony Blair said he'd never seen "The Special Relationship," in which he's played by Michael Sheen and Bill Clinton is played by Dennis Quaid. "I'm not one for political movies as I get enough of it in my daily life," he said. "If I was going to watch something about politics, I'm more likely to watch 'Yes, Prime Minister.'"

Michael Sheen also starred as British journalist David Frost opposite Frank Langella in "Frost/Nixon," a film documenting a series of interviews with former president Richard Nixon. Nixon died before the film came out, but Frost praised the adaptation. "There is 10 percent of fiction in the film, which no doubt improves the film," he said. "But what they got, they got ... absolutely right."