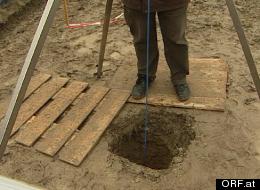 An Austrian farmer looking for his lost cat stumbled upon a hole that he thinks might contain the greatest UFO find of all time.
Franz Knoglinger, 47, found the 25-foot-deep, perfectly round hole in northwestern Austrian field while searching for his misplaced kitty Sunday night. He pulled out every investigative trick in the book to learn what was at the bottom.
Throw a rock down the hole? Check.
"I was looking for our family cat Murlimann when I noticed the hole -- I didn't know how deep it was then so I dropped the stone down there, and heard a metallic clunk," he told the Austrian Times.
Big ol' magnet? Check.
"I managed to get a big magnet which I dangled down there and it clearly fastened onto something at the bottom –- so there is something large and metallic about down there," he said. "It also sounds as if there is a hollow space around about whatever the metal object is. It sounds as if there is a room underneath."
He even called a local plumber, who lowered a camera down the pit on a rope -- but the camera failed just as it reached the object. Knoglinger said that the interference may have been caused by "some sort of electrical field."
Regardless, the speculations are already flying -- more than 500 people visited the site within the first day, the Salzburger Nachrichten reported (via Google Translate). Archaeologists told the paper that the hole could have been formed when wooden timber from an underground burial chamber rotted away.
But that doesn't explain the metallic object, which locals think could be a malfunctioned bomb from the war, the "Doorway to Hell" -- as one resident pointed out with a sandwich board -- or even a buried spacecraft, Knoglinger told the Austrian Times.
Geologists are expected to visit the site and perform tests before a possible excavation, the paper reported.
Meanwhile, Knoglinger found his cat.
Check out our UFO gallery below:
This cigar-shaped UFO was photographed by general aviation pilot David Hastings as he piloted a Cessna Skymaster plane over the Mojave Desert on Sept. 9, 1985. There has never been an indication of hoax in this case, which remains unexplained to this day.

An unidentified flying object was photographed by a government employee over the Holloman Air Development Center in New Mexico in 1964. Conspiracy theorists have claimed the photo is proof that the U.S. government has been in contact with aliens.

While descending an Austrian mountain in 1954, photographer Erich Kaiser captured an image of what he called mysterious silvery-white flying objects.

Mexican Air Force pilots filmed strange, brightly lit objects that moved quickly in the skies on March 5, 2004. Some scientists said the phenomenon could have been caused by gases in the atmosphere.

America's most infamous UFO case centers in Roswell, N.M. Some people claimed an alien spacecraft crashed there in 1947; the military said it was a weather balloon.

The Air Force issued "The Roswell Report" in 1997. Countering claims that aliens were recovered at the New Mexico site, the report said military officials picked up 200-pound dummies, above, that were used in an experiment.

Video grab close up. What looks like an alien creature with visible head, neck, arms and body standing in the Brazilian rainforest in Manaus, Brazil. In this Amaz-alien footage, a lone unidentified being appears to stand in the jungle of Brazil -- even arching its back -- just feet away from a bright flashing blue light. In what some allege as proof that Earth is being visited by aliens from another planet, the video was obtained by paranormal writer Mike Cohen who says the video was taken by two British tourists visiting the Manaus region of the Amazon jungle.

A large circle and geometric pattern local residents say were created by a UFO appeared in a rice field in Krasakan hamlet in Sleman, Yogyakarta, on the morning of Jan. 23, 2011.

Stan Romanek claimed that this still image from a three-minute video he shot in 2003 shows an alien looking into his home in Nebraska. In the film, a strange face appears to be popping up and down outside Romanek's window.

This eyewitness drawing of an alleged UFO sighting is in one of 19 once-secret files posted to the British National Archives website. The files cover sightings reported between 1986 and 1992. Although many of the reports were debunked, some remain unexplained.

An investigator in 1989 measures markings that some said were left behind by a UFO in Normandy, France. France began releasing its "X-Files" on UFO sightings in 2007.

President Jimmy Carter, shown here in 1971, reported that he saw a UFO above Leary, Ga., in 1969. He filed a report about the sighting to the International UFO Bureau in 1973.

Astronaut Gordon Cooper, who piloted Mercury and Gemini space missions in the 1960s, once said he saw a "typical saucer shape, double-cylindrical shape, metallic" UFO. He was also outspoken on the idea that some UFOs were interplanetary vehicles visiting Earth.